Principal of Stirling College, Associate Professor Graham Hill, has recently released a new publication.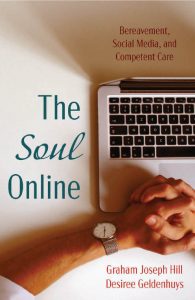 The Soul Online: Bereavement, Social Media, and Competent Care
By Graham Hill and Desiree Geldenhuys
Pandemics, conflicts, and crises have increased suffering, death, and loss worldwide. The growing phenomenon of online interactions by the bereaved with the online presence of their deceased loved ones has recently come to the attention of caring professionals. Many questions emerge. How do we understand and respond to digital memorialization? What do we make of digital identities and continuing bonds? How can we engage with digital bereavement communities? What is the future of digital death and bereavement rituals and practices? How have forms of technospirituality and cybergnosticism emerged? How do counselors and carers respond to advances in the digital afterlife? Graham Joseph Hill and Desiree Geldenhuys examine existing therapeutic responses to death and bereavement practices and evaluate the efficacy in meeting the needs of mourners in a digital context. Geldenhuys and Hill explore the rising interest in spirituality and the phenomenon of technospirituality, including interest in the afterlife. The authors outline new death and bereavement practices in the digital public sphere. Hill and Geldenhuys offer ways that therapeutic and care practitioners can meet these needs. Finally, the authors develop new proposals for counseling, pastoral, and spiritual carers to help them address the needs of the bereaved.
The book can be purchased here.

Stirling College is committed to ongoing theological reflection and the formation of each member of our learning community. Stirling is committed to being Christ centred in heart, thought, word and deed. We form people towards Christ centred lives, mission and ministry. Stirling is committed to giving students the best possible skills to read the Bible in its original context and to then reflect on what that means for today and how to apply it in their lives, not just for their own benefit but to benefit the Body of Christ in its diverse and varied expressions.