Free exhibition at Old Treasury Building 1 August 2019 – 2 March 2020
The Invention of Melbourne presents a rare opportunity to see some little-known treasures of gold rush Melbourne and to reflect on the careers of two remarkable men – James Alipius Goold, first Catholic bishop of Melbourne, and William Wilkinson Wardell, architect of St Patrick's Cathedral.
Bishop (later Archibishop) James Goold arrived in Melbourne in 1848. He soon developed an ambitious vision for Catholic Melbourne, which included building a fine cathedral. It would be the largest ecclesiastical building in Melbourne. Less well-known is Goold's interest in collecting both pictures and books. Some of those works feature in this exhibition.
William Wardell arrived in Melbourne in 1858 and began working on the cathedral soon afterward. His cathedral is considered one of the finest Gothic Revival buildings constructed anywhere in the world. Included in the exhibition are his original plans and sketches, along with fine books and prints from the cathedral library.
Between them, these two men made a notable contribution to the built environment of the emerging city of Melbourne.
FREE ENTRY | Open Sunday to Friday 10am – 4pm (closed Saturdays)
20 Spring Street Melbourne | otb.org.au | 03 9651 2233
The research for 'The Invention of Melbourne: A Baroque Archbishop and a Gothic Architect' was funded by the Australian Government through the Australian Research Council.
Download and share the event flyer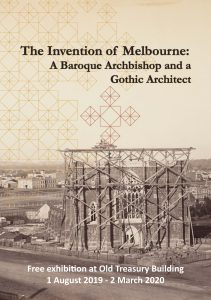 Related articles
New Publication: The Invention of Melbourne →
The Invention of Melbourne defines the relationship between an architect of genius, William Wardell, and the first Catholic Archbishop of Melbourne, James Goold, an Irishman educated in Risorgimento Italy. Read more →
University academic staff receives ARC grant funding →
The Australian Research Council (ARC) has awarded $266,000 for a research project on the first Archbishop of Melbourne: A Baroque Archbishop in Colonial Australia: James Goold (1812–1886). Read more →
CTC is committed to the highest standards of teaching and research in philosophy and theology, within the Catholic tradition. It collaborates in the Church's mission to spread the Gospel, and provides academic formation for people committed to the pastoral service of the Church.