On the evening of Friday, 6 September, the University of Divinity, Jesuit College of Spirituality and Newman College collaborated to present a forum entitled A New Culture of Leadership to Revitalise the Church. The keynote presenter was Chris Lowney of New York, noted author and speaker on leadership and Ignatian spirituality. The occasion was held in the Oratory at Newman College, which provided refreshments to the over 100 attendees before the formalities.
Master of ceremonies, Vice-Chancellor Professor Peter Sherlock, opened the occasion and then invited Newman College Provost Sean Burke to introduce the speaker. Chris Lowney argued that we need a new culture of leadership, a culture where everyone leads, that is, "where each person feels a leadership opportunity and responsibility ― living our baptismal promise!" Rising to contemporary challenges, we need to be "courageous yet humble: calling upon the Spirit's gifts". He encouraged us to have "a one-team mindset: interested in generating solutions" and to be "highly entrepreneurial: willing to try new approaches" as we are "deeply accountable for the mission". In going forwards in this new era, we need "a daily habit of reflection: nourished by prayer".
Deb Kent, Principal of Jesuit College of Spirituality, offered a response to the lecture prior to questions and discussion, with lively participation by the attendees. The evening concluded with a vote of thanks from Professor Sherlock and expressions of appreciation from participants who sought out Chris Lowney for informal discussion.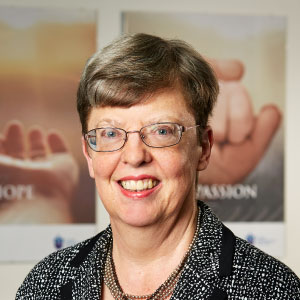 Professor Gabrielle McMullen AM FRACI is Deputy Chancellor at the University of Divinity.
Following postdoctoral research in Germany, Professor Gabrielle McMullen joined the Department of Biochemistry at Monash University and also became Dean of its Catholic residence, Mannix College, in 1981. She was then Rector of Australian Catholic University's (ACU) Ballarat campus from 1995-2000 and its Pro- and Deputy Vice-Chancellor (Academic) until February 2011. In July 2011 she was appointed a Trustee of Mary Aikenhead Ministries, which was established by Sisters of Charity of Australia in 2009 to continue their health and aged care, education and social service ministries.
Professor McMullen is a member of the Council of the University of Divinity and also of the Council of the Divine Word University in Madang, Papua New Guinea. Her other community contributions have encompassed membership of education, health, theological and community services boards. A member of the Australian Catholic Council for Pastoral Research, her personal research interests include Catholic identity and mission, and the history of science.