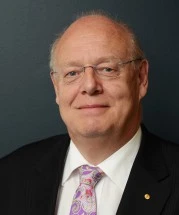 Congratulations to Dr Graeme Blackman AO, Chancellor of the University of Divinity, for being appointed chair of the newly formed Aged & Community Care Providers Association. Operational from July 1, the newly-created ACCPA will represent aged care providers from across the industry, large and small, commercial and not-for-profit, in an effort to lead and influence the sector's future, unified in voice and purpose. 
In all, 15 board members have been appointed including Dr Graeme Blackman as chair and Cherylee Treloar as deputy chair. Both positions were determined at the board's inaugural meeting held earlier this week.
"It's an honour to be elected as ACCPA's first-ever board chair," Dr Blackman said. "The formation of ACCPA is the first step towards a more unified industry, with a single and strong voice able to represent all aged care providers."
The ACCPA board will play "a pivotal role in ensuring the new organisation provides the governance and leadership that the community clearly expects, and our industry needs, for a sustainable aged care future," added Dr Blackman, chancellor of the University of Divinity and president of the Victorian Council of Churches.
Information about the ACCPA can be found here. More information about the newly appointed board can be found here.