Congratulations to Reverend Dr Cameron Forbes, who was awarded the highest mark for a doctorate submitted in 2017-2018 from the Alphonsianum Academy of the Pontifical Lateran University in Rome.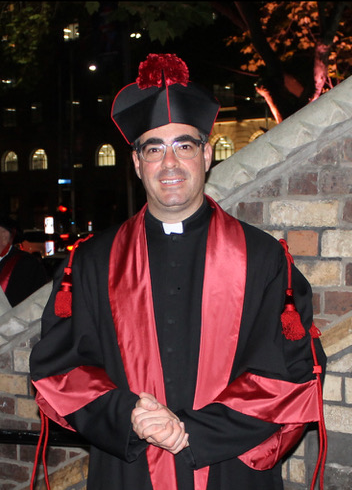 Dr Forbes, an alumnus of the University and lecturer in the Department of Moral Theology and Canon Law at Catholic Theological College, defended the doctorate on 5 October 2017. His supervisors, Reverend Terence Kennedy CSsR and Reverend Stefano Zamboni CSsR, are both on the faculty of the Alphonsianum Academy and received the award at a ceremony held in October 2018, on Dr Forbes' behalf.
The Alphonsianum Academy is a specialist academy of moral theology. The official citation states that the award is made for "the best doctorate in moral theology".
The title of the doctorate is "The Augustinian Foundations of the Thought of Paul Ramsey on Just War". It examines the just war writings of the 20th American Methodist ethicist and Princeton academic, Paul Ramsey (1913-1988). Ramsey constructed his own just war principles based primarily on the concept of agape as it relates to non-combatant immunity. He drew heavily on the works of St Augustine, but not in the traditional sense, making no reference in his own work to Augustine's specific just war writings. He drew instead on aspects of Augustine's political philosophy, as exemplified in the City of God, among other texts. Furthermore, Ramsey was much influenced by two modern interpreters of Augustine, H. Richard Niebuhr (who directed Ramsey's doctorate) and his brother, Reinhold Niebuhr. From Richard, he took the idea of "conversionism" or "transformism", in addition to Reinhold's notion of "Augustinian realism". Ramsey's just war writings hold these two strands of Augustinian thought in creative tension.
CTC is committed to the highest standards of teaching and research in philosophy and theology, within the Catholic tradition. It collaborates in the Church's mission to spread the Gospel, and provides academic formation for people committed to the pastoral service of the Church.