Today, on International Women's Day 2019, we celebrate two of our first graduands of the University's Indigenous Theologies program.
Whitley College, in partnership with NAIITS: An Indigenous Learning Community (formally known as the North American Institute for Indigenous Theological Studies), is offering the opportunity to explore theology, history and the practice of ministry from Aboriginal and Torres Strait Islander and world Indigenous perspectives.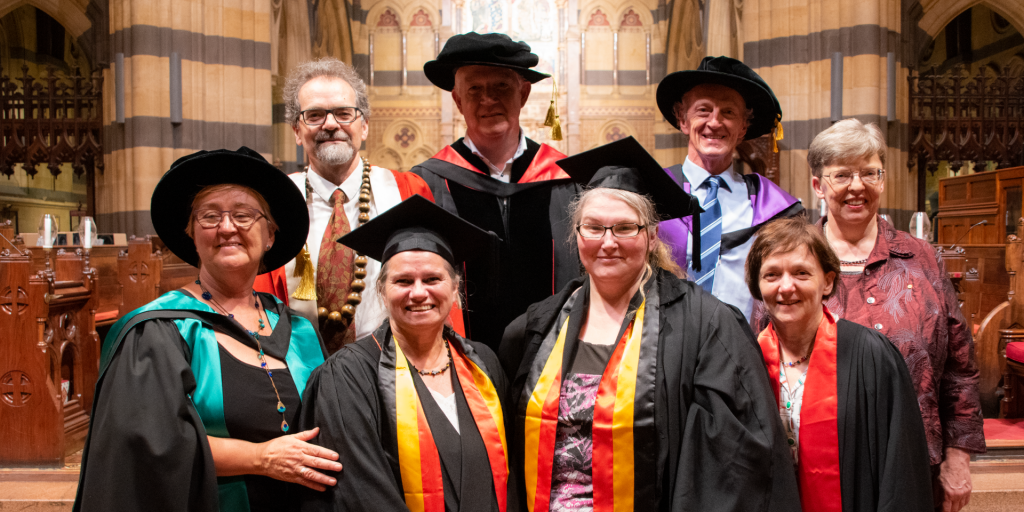 The program is part of a wider growing community of theologians who are Aboriginal, Torres Strait Islander, Canadian Aboriginal, Native American and other First Nations and Indigenous peoples. The community is also joined by non-Indigenous theologians who seek to work with, and within, Indigenous theological education.
Aunty Reverend Patricia Courtenay, one of the first graduates of the program, said about her experience:
"I began formal theological education twenty years ago, after my divine calling into the Priesthood. All of my formal studies, theological and academic, have been undertaken in mainstream courses within post-secondary settings. I have always been aware that I came from a distinct Indigenous perspective. However, I have experienced that my Indigenous perspective has not been valued or considered acceptable in past theological studies. NAIITS studies has validated, affirmed and valued my Indigeneity in Christianity. I am grateful that Whitley College and the University of Divinity have been courageous enough to take on these studies, so that everyone in Australia, has the opportunity to learn from an Indigenous theological perspective."
Naomi Wolfe, an academic from Australian Catholic University and a graduate of the program, said:
"As an Indigenous woman, it was an incredible experience to be taught by Indigenous theologians. A long-standing dream has been realised – it was thrilling being in the classroom with Indigenous peoples from around Australia and beyond, all at the University of Divinity, to explore Indigenous theologies."
Aunty Patricia and Naomi will graduate in a ceremony to be held at St Paul's Cathedral Melbourne on Friday 22 March, alongside a cohort of 410 other graduands of the University of Divinity.
Want to find out more?
Study with us | Australian Indigenous Theology: https://vox.divinity.edu.au/news/study-australian-indigenous-theology/
FREE FORUM (6 April) Exploring Indigenous Theologies as a bridge for moving towards reconciliation: https://vox.divinity.edu.au/event/exploring-indigenous-theology/