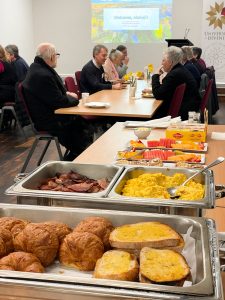 Thank you to all who joined us on Friday 12 August for the Alumni Network Breakfast in Box Hill. This was the first alumni event (due to COVID) since the network was established in late 2019, and it was wonderful to finally be able to gather together.
A big thank you to Reverend Aunty Janet Turpie-Johnstone (Bachelor of Theology 1997) who was our speaker at the event. Aunty Janet is the Chair of the UD's School of Indigenous Studies Committee and is currently completing a PhD with ANU on Indigenous readings of Naarm landscapes. At the breakfast, she spoke about Aboriginal Spirituality, specifically connecting with the incredible landscape here in Melbourne – rivers, bush and unique native animal life – and our duty to preserve the land in the face of development.
If you are a graduate of the University, and interested in joining the Alumni Network, you can do so below.
Join the Alumni Network