Contemporary Feminist Theologies: Power, Authority, Love, published by Routledge in their Gender, Theology and Spirituality series (edited by Lisa Isherwood), is now available.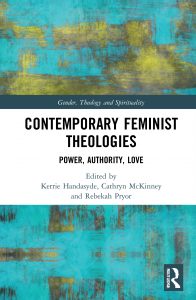 This book explores the issues of power, authority and love with current concerns in the Christian theological exploration of feminism and feminist theology.
It addresses its key themes in three parts: (1) power deals with feminist critiques, (2) authority unpacks feminist methodologies, and (3) love explores feminist ethics. Covering issues such as embodiment, intersectionality, liberation theologies, historiography, queer approaches to hermeneutics, philosophy and more, it provides a multi-layered and nuanced appreciation of this important area of theological thought and practice.
This volume will be vital reading for scholars of feminist theology, queer theology, process theology, practical theology, religion and gender.
With contributions from Stephen Burns, Seforosa Carroll, Sally Douglas, Anne Elvey, Kerrie Handasyde, Josephine Inkpin, Anika Jensen, Helena Kadmos, Ann Loades, Brian Macallan, Katharine Massam, Cathryn McKinney, Janice McRandal, Rebekah Pryor, Nicola Slee, Katecia Taylor and Sean Winter.
This deeply interconnected collection of essays offers fresh perspectives on the challenges of comprehending the relations between power and agency, authority and love. Feminist theology has always rejected binary separations between these spheres and stresses the painful but necessary task of accommodating their entanglement in human and divine relations. What the authors in this work achieve are vivid, culturally located and accountable representations of loving as 'power transformed' and 'transforming power'."
Heather Walton
Professor of Theology and Creative Practice
School of Critical Studies, University of Glasgow
Editor(s)
Biography
Kerrie Handasyde is Senior Lecturer in Church History at Pilgrim Theological College and Adjunct Lecturer at Stirling Theological College, University of Divinity.
Cathryn McKinney is Professional Supervision Program Coordinator at the University of Divinity, and an Honorary Postdoctoral Associate and Associate Lecturer at Pilgrim Theological College, University of Divinity, and chaplain at a women's prison.
Rebekah Pryor is an artist, curator and early career researcher at the University of Melbourne.
Publication Information