With the outbreak of COVID-19, the world population is being asked to band together as a global community. During this time, the Dean of the Theological School at Trinity reminds us that in order to function well as a collective society, we need to learn about and respect the religious views of others too.
Over a half-century ago, the American folk singer Bob Dylan sang that 'the times, they are a-changin'.' His song, from 1964, became an anthem for Baby Boomers as they experienced a seismic reorientation away from (and rebellion against) the values, politics and cultural forces of the previous generations in Western societies.
Now, the times, it would seem, are still a-changin'…
According to Australian census data going back more than three decades, there have been some dramatic shifts in the religious allegiances of Australians and some interesting trends have emerged. For example, in 1986, Christians made up 73 per cent of the population (Anglicans, at that time, comprised 24 per cent).
But 30 years later, the numbers have shifted significantly. As of 2016, Christians had dropped to just over half of the population (with Anglicans falling to 13 per cent). During that same period, other religions experienced significant growth. For example, Buddhists, Sikhs, Hindus and Muslims grew together from 1.3 per cent of the population to 7.4 per cent.
Along with this trend of increasing religious pluralism in Western societies like Australia, we also see a lamentable rise in religious extremism and xenophobia – seen most horrifically in events such as the Christchurch mosque shootings, the Sri Lankan Easter church bombings or the Pittsburgh synagogue shooting. For some, ignorance, hatred, prejudice and violence are still shamefully the all-too-familiar reactions to difference and diversity in societies around the world.
How should educational institutions, specifically those engaged in theological education, respond to these trends? How should theological colleges speak out against prejudice and foster understanding and mutual respect between various religious traditions? What sort of ministry settings will the graduates of theological colleges such as Trinity College Theological School be engaging in into the future?
These are important questions to ponder as theological education works to maintain a relevant voice in society and sends its graduates out into ministry in contexts that are increasingly diverse and multifaith, where they can model the Christian virtues of tolerance, understanding and love for one's neighbour.
Other theological colleges have responded formally to these trends in Western society and have seen the need to specifically adapt their curriculums to these changes. For example, Candler School of Theology at Emory University in Atlanta has developed the Leadership and Multifaith Program (LAMP), which offers students units in interreligious literacy and multifaith relations. The Faculty of Theology at the University of St Michael's College in Toronto offers a Diploma in Interfaith Dialogue, which takes advantage of Toronto's reputation as being the most diverse city in the world and provides opportunities for students to engage with people of other faiths in meaningful ways and develop the skills for multifaith dialogue.
In addition, the 'Scriptural Reasoning' (SR) movement, which began among academics in the early 1990s, continues to gain steam. As its website states, Scriptural Reasoning is 'a tool for interfaith dialogue whereby people of different faiths come together to read and reflect on their scriptures. Unlike some forms of interfaith engagement, it is not about seeking agreement but rather exploring the texts and their possible interpretations across faith boundaries and learning to "disagree better". The result is often a deeper understanding of others' and one's own scriptures, as well as the development of strong bonds across faith communities.' This movement largely involves people from the Christian, Jewish and Muslim faiths, is practiced by academics and non-academics alike, and continues to provide some exciting and valuable opportunities for respectful interfaith dialogue.
With these trends and movements in view – within theological education and within society more broadly – the Theological School at Trinity College looks to be a leader in interfaith dialogue. Through events, lectures and conversations, our faculty seek to foster graduates who do not just have a deep understanding of Christian theology and history, the Scriptures of the Church, and the necessary practical skills needed for ministry, but who also possess a knowledge of the different religious traditions reflected in the plurality of today's society. We also inspire a commitment to engage with people of other faiths – a commitment that is fundamentally consistent with one of Trinity College's core values: diversity.
By continually adapting our curriculum to respond to the multicultural realities of contemporary Western society, it is the Theological School's hope that it can model and establish healthy and instructive multifaith dialogue to respond to the changing times in which we all live.
This article first appeared in issue 88 of Trinity Today.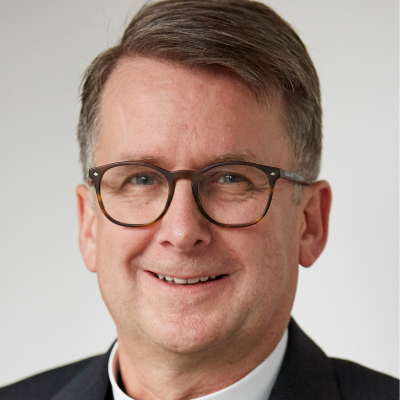 Reverend Canon Associate Professor Robert ('Bob') Derrenbacker is the Dean and Principal of Trinity College Theological School. He grew up in upstate New York State in the USA. He attended Wheaton College where he earned a BA in Theology and Biblical Studies. He then received his Masters Degree from Gordon-Conwell Theological Seminary in Massachusetts, USA. He, and his wife Cindy, then immigrated to Toronto, Canada where Bob earned a PhD in New Testament at the University of Toronto. It was there in the Anglican Diocese of Toronto where Bob was ordained Deacon in 2001, then Priest in 2002.