Asian immigration is transforming the Australian church and society, with migration from Asian countries occupying six of the ten largest groups moving to Australia. This phenomenon is transforming the Australian church. While most Australian churches are declining and aging, Asian Australian churches are young and growing. The end of white Australian Christianity is near. The future of the church is Asian.
As this increase in Australia's Asian population continues to grow, we must investigate the cultural and societal impact on Australian society. Understanding how these immigrant Asian churches are engaged in ministry and how Asian women can have flourishing ministries in Australia is essential.
Our recent book Sunburnt Country, Sweeping Pains: The Experiences of Asian Australian Women in Ministry and Mission shares the stories of Asian Australian women as they experience inequality, racism, sexism, and stereotypes in ministry and mission. These women also talk about their joy and meaning in serving God's church and world. This book examines 21,987 NCLS surveys, 36 detailed surveys, and 15 in-depth interviews with Asian Australian Christian women. These women share their stories of discrimination and efforts to bring change. They also offer proposals for a more equal, fair, and just Australian church.
The book relates how Asian immigrants in Australia experience racism, marginalisation, and discrimination from the dominant society, as they do in many other places, such as the United States. They are victims of myths such as being honorary whites or the model minority. These myths attempt to diminish their experiences of marginality, racism and discrimination with the supposed notions of economic and academic success – tangential or ascendant to whites. In such a context, it becomes especially difficult for Asian Australian women who experience sexism and racism to voice their stories and find status as leaders within and outside their ethnic communities.
Some Asian Australian women live under limiting restrictions of patriarchy found in the white Australian society and their Asian communities. As described in this book, patriarchy is sometimes embedded in Asian and majority-white churches and profoundly affects Asian Australian women. (We say "sometimes" because not all Asian or majority-white groups and churches are the same) Since patriarchy is deeply embedded in the life of the church and faith communities. It will take courage and determination to work towards a just and equitable church. The change will also require the communal effort of the church as a global institution. In this effort, Asian Australian women live in hope: hope given by Christ to those who hear and follow his word; hope that inspires and sustains; and hope that supports and guides in the effort to live by justice and establish equity in the Sunburnt Country.
Good data is hard to access, and the book shows a fuller picture of Asian Australian women than is often depicted. Diversity is essential because, within our sub-tribes, our limited experience can easily inform us: whether we be of English or Chinese descent, first- or second-generation, middle to upper-class, Evangelical or Pentecostal, and so forth. We must see the diversity of Asian Australian women beyond our tribes, working in different contexts and roles, beyond children's and hospitality stereotypes (as crucial as they are), and features both first- and second-generation perspectives.
Some women have shared with us that this book presents feelings familiar to many women – of true joy in service and support and encouragement received from their churches on missions and ministry work. At the same time, they are openly revealing the lived experiences of inequalities and vulnerabilities as women and minorities. The women interviewed have a safe space to "spill the tea"! The thoughts shared here are usually confined internally, shared in prayers to the Father, in hushed tones, or tears to just one specially selected confidante.
The honesty here is rare, valuable, and insightful. Many Asian Australian women have experienced these realities firsthand, but they can be challenging to articulate. When it can be expressed, others may try to speak for these women, whether a spouse or majority race leaders. Asian Australian women are taught to accept this as normal.
Consequently, many Asian Australian women are ill-prepared because they are blind to these vulnerabilities and brokenness until they damage their spiritual lives, ministries, and mental health. There are real wounds here: racism, sexism, and inequalities have been voiced in this book, and training institutions and faith communities should take note. However, rather than condemnation, this book provides hope and practical theology to address these inequalities in an intelligent and empowering way.
It is a shame that many Asian Australian Christian women do not have the opportunity to reflect on these realities in their training or the field. Not in women's conferences here in Australia, not even in women's events in their churches, ethnic Asian or not. Furthermore, we have not seen published books on Asian Australian faith communities. This should not be, considering the high number of Asian Australians raised and working in the harvest. Until now.
As a book that features research on Asian Australian women, the title Sunburnt Country, Sweeping Pains seeks to locate this book within the changing Australian context. Rather than being relegated to a corner for those "others" and by those "others" only, the research has a direct and fitting bearing on the Australian and First Nations context. We pray that many people from all sorts of cultural backgrounds pick up, learn, and embrace the practical steps given in this book. Then go and be agents of change in their ministry contexts while engaging entrenched, unequal systems.
We hope Sunburnt Country, Sweeping Pains will be read by all who value the voices and stories of women and want to address racism and sexism in church and society. Asian Australian Christian women guide us towards a multiethnic church that values equality and dignity for women and men of all cultures.
So, the first book on Asian Australian Christians! God has brought to the forefront those who can be relegated to the background – serving busily, unassumingly, and faithfully – beloved daughters of the Father.
Sunburnt Country, Sweeping Pains: The Experiences of Asian Australian Women in Ministry and Mission is available to purchase. 
Purchase from the publisher
Graham Joseph Hill is Associate Professor at the University of Divinity and State Leader for Baptist Mission Australia (WA); Grace Lung a pastor for the second generation in a Chinese migrant church; Grace Ji-Sun Kim is Professor of Theology at Earlham School of Religion in Indiana.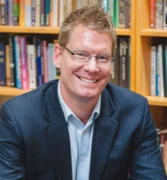 Reverend Associate Professor Graham Joseph Hill served as Principal and Director of Research at Stirling Theological College (University of Divinity) until March 2022. He has planted and pastored churches, and been in theological education for twenty years. Graham is the author or editor of six books including Healing Our Broken Humanity, (IVP, 2018, with Grace Ji-Sun Kim), Salt, Light and a City (Cascade, 2017), and Sunburnt Country, Sweeping Pains (Wipf and Stock, 2022). He also directs The Global Church Project.