This article was published in the April 2019 edition of Tolle Lege, CTC Community news.
Congratulations to all the CTC students who graduated on Friday 22 March at the ceremony in St Paul's Cathedral. Ninety-two of the students were from CTC. Special congratulations to Reverend Dr Chris Ryan MGL, who had his PhD conferred and was named a Vice-Chancellor's Scholar.
As we look back on the first five weeks of this semester, we are aware it has been a very challenging time. Of course, the beginning of another academic year brings all the usual demands. But this has been, and continues to be, a deeply disturbing time for us all as members of the Church around Australia and especially for us in Victoria. Whatever our own journey, we note the words of Archbishop Commensoli that we must never forget those "whose lives remain devastated by the impact of sexual abuse inflicted on them in their vulnerability". Last week Archbishop Comensoli spoke of the "earthquake" we have experienced in our Church community and of "a landscape" that has changed for ever. He continued, "New ground needs to be prepared, and the soil turned, so the gospel seeds may be re-planted among us".
In his homily at the final Mass of the Vatican Summit on the Protection of Minors, Archbishop Mark Coleridge elaborated:
A mission stretches before us—a mission demanding not just words but real concrete action. We will do all we can to bring justice and healing to survivors of abuse; we will listen to them, believe them and walk with them; … we will strengthen the processes of recruitment and formation of Church leaders; we will educate all our people in what safeguarding requires; … we will not act alone but will work with all concerned for the good of the young and the vulnerable; we will continue to deepen our own understanding of abuse and its effects, of why it has happened in the Church and what must be done to eradicate it. All of this will take time, but we do not have forever and we dare not fail.
This is an extraordinarily confronting time in which to be studying theology, but if ever we needed to ask questions about the meaning and implications of our Christian faith, it is now. As we walk towards the Plenary Council in this new, emerging landscape, let us pray for each other that we may remain open to the call of God's Spirit to shape the future together, with compassion and courage.
Dr Frances Baker RSM
Acting Master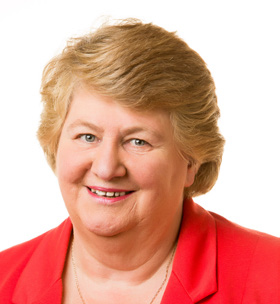 Dr Frances Baker RSM is Acting Master (Semester One 2019) of Catholic Theological College and a religious of the Sisters of Mercy (RSM).  She is a member of the Department of Moral Theology and Canon Law and the Department of Systematic Theology, and is Coordinator of the Graduate Certificate in Teaching Religious Education. She lectures in Moral Theology and Systematic Theology.