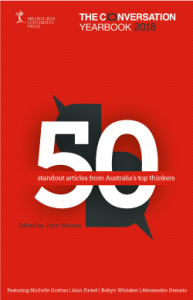 For the second consecutive year, Reverend Dr Robyn Whitaker will be included in the forthcoming publication, The Conversation Yearbook 2018: 50 standout articles from Australia's top thinkers. This collection of essays, including Dr Whitaker's Jesus wasn't white: he was a brown skinned, Middle-Eastern Jew. Here's why that matters, collates the best of the authoritative journalism for which The Conversation is renowned, and the University of Divinity congratulates Robyn on her success.
The Conversation is an independent source of news and views, sourced from the academic and research community and delivered directly to the public. Dr Whitaker, Senior Lecturer in New Testament at Pilgrim Theological College, regularly contributes articles to this forum, reaching an extensive international readership. In August 2017, her article To Christian's arguing 'no' on marriage equality: the Bible is not decisive reached an online readership of 585,000, with hundreds participating in the comments. Since contributing her first article to The Conversation in June 2017, Dr Whitaker has amassed a total of well over 1.5 million readers.
When asked about her experience writing for The Conversation, Robyn said:
I've been writing for The Conversation for just over a year now and it has been the most helpful and pleasant publishing experience I've ever had. Their pitch process makes us wordy academics hone ideas into 50 or 100 words, but I've grown to appreciate just how much that helps clarify one's thinking. If a pitch is accepted, the editors work with you at every step of the way. Unlike major newspapers who often give no feedback at all, The Conversation editors work with you to make sure your article is in the best form it can be. This may include suggesting a less technical term or reorganising a sentence. Authors get to approve final copy which means you get to participate in decisions over images, titles, and any editing that has happened. I can honestly say I've never felt uncomfortable with changes that were made and it is a very collaborative process that has improved my writing.

For those who like statistics and graphs, the author's "dashboard" means you can track who is reading, tweeting, or sharing your articles. The Conversation moderate the comments too, which reduces the kind of anonymous online abuse that can happen in other places.

Writing shorter articles in The Conversation has helped me find my voice as a writer and hone a style that is more readable. I'm hoping it will mean my next book has a bit more of that approachable tone which is so often lost in my more technical academic writing.
Read some of Robyn's other articles featured on The Conversation in 2018: