This article is published with permission from The Southern Cross. 
Before Michael Bowden was conferred with his PhD by the University of Divinity at the Glynde Lutheran Church in Adelaide, he gathered with his family and closest friends for what he called 'A Celebration of The Big Circle'.
The former Richmond footballer, Catholic school teacher, Indigenous educator and father of seven had drafted his "final lesson plan" to bring the people he loves into "his world, his circle".
Four of his sons reflected on what they had learned from their life in the Bowden family circle and his only daughter Majella read a poem.
Proudly donning his graduation regalia, the 72 year old was silent throughout the moving ceremony. That's because Michael can't speak any more. A year ago, he was diagnosed with Motor Neurone Disease.
His wife Judy wasn't in the circle. She has dementia and now 'lives in the timeless'.
So devoted to caring for his beloved wife for the past five years, Michael refused an invitation to watch Richmond win the 2019 grand final. He was a member of the 1969 premiership team and three of his sons played for the club, including Joel who notched up 265 games. But football was far from Michael's mind as he gathered in the circle that "has no beginning, and no end".
His focus was the journey of discovery that began in 1983 at Ernabella in the far north-west of SA where he was employed as a community adviser and culminated in the completion of his thesis Searching Altyerre to Reveal the Cosmic Christ.
His understanding of Altyerre (Dreaming) developed when he went to work in the Ntyarlke Unit of the Catholic high school in Alice Springs. Here he was introduced to the Ngkarte Mikwekenhe Catholic Community of Our Lady of the Sacred Heart Church and Sr Robyn Reynolds OLSH who was one of his thesis supervisors.
Michael describes his children – Sean, Rhett, Kane, Joel, Patrick, Majella and Charlie – as "the greatest gifts of our lives":
As both Jude and I now suffer terminating illness they have tightened their loving embrace…today the whole family (with the exception of Charlie who is committed to his own children in Melbourne) are now living in Darwin with us," he writes.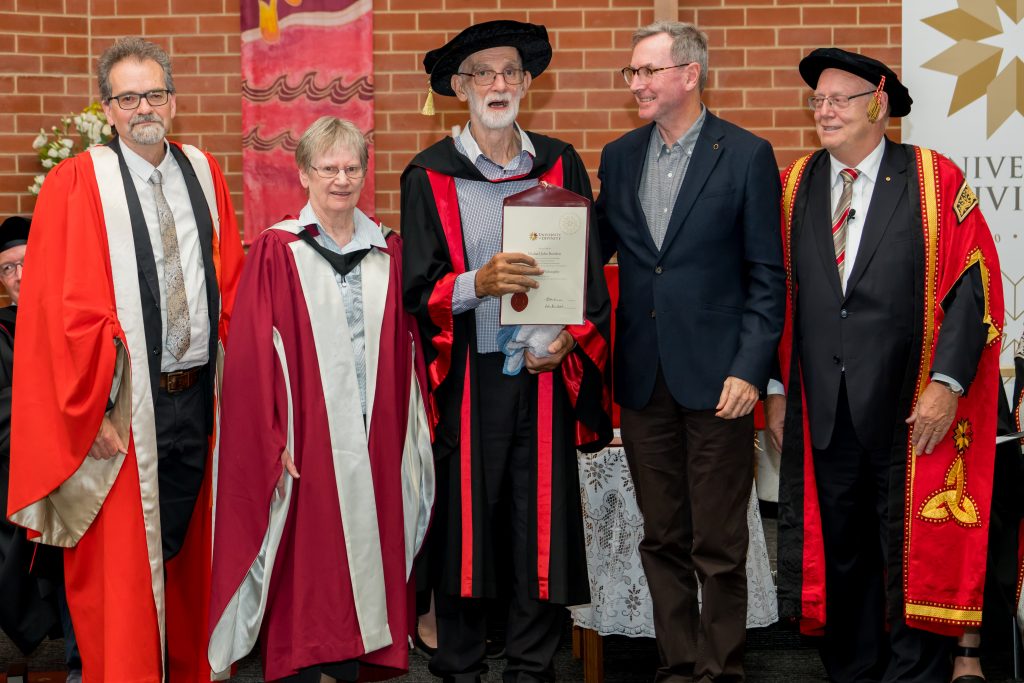 Michael wrote his thesis while living in Alice Springs in a granny flat on the property of his daughter Majella, her husband Gordon Mallard, an Arrernte man, and their three children. Majella assisted him throughout the process and helped care for Judy who lay on the bed behind him as he sat at the computer.
My most beautiful wife Judy has travelled every kilometre of this journey," he writes.

"There is absolutely no doubt that the people who know us both and are mentioned in this thesis all love her in a deeply special way because she is simply the most honest person they have ever met. Every day she makes me a better man, thank Mystery."
'Thank Mystery' is Michael's unspoken sign off for most things these days. He refers to the "Mystery of the Cosmic Christ…the fleshed and ever alluring presence of the divine in the cosmos from its inception". In other words, 'Mystery' is God.
The aim of his thesis is to show that Altyerre in the hands of the Mparntwe Arrernte people of Alice Springs "has organically absorbed key elements of the Catholic imaginary into its own imaginary so to produce Altyerre-Catholicism, a world-view or imaginary that satisfies the need for finding meaning in existence, a faith to live by".
Altyerre-Catholicism in the way it is lived is a gift to the Catholic Church and to the world," he writes.

"And in a manner beyond even the best of charity known to Christians – despite Invasion, dispossession, marginalisation, impoverishment, incarceration, and the sad dismissal of their gifts by White Australia – they continue to offer this richness to anyone and everyone who walks up to their open front door."
Before Michael lost his speech, he took part in a MND fundraising bike ride, an event he founded for other charities while teaching at O'Loughlin Catholic College, Darwin, where his son Rhett is now principal. At the time, he was cycling up to 25km some days and in a newspaper article he insisted that while MND was a life sentence "it mustn't stop you from living".
With plans to turn his thesis into a book, Michael is showing no signs of giving up on this mantra. The circle continues…