The Fault Lines Founding Liberty explores the tensions inherent in growing up and moving on from faith, family, and past versions of ourselves. With unanswered questions and hovering guilt, a young woman comes to confront the specters of her past through dialogue with an unexpected companion. This process is as uncomfortable as it is transformative. Freedom is discovered not by eliminating life's loose ends nor running away from them, but in gathering them bravely and continuing to put one foot in front of the other despite everything–a process made hopeful in the solidarity of unexpected friendship.
Publication Information
---
Review
"Sarah Bacaller shows us that in the twenty-first century it is still possible to write a philosophical and theological novella that is insightful, rigorous, and entertaining at the same time, and never pretentious. The protagonist of Fault Lines might appear as an 'ordinary' person with a quite conventional religious past and without a scholarly understanding of theological issues; an interpersonal exchange, however, which is ordinary and exceptional at the same time, makes her begin a journey of intellectual and spiritual growth. . . . A remarkable read."

– Paolo Diego Bubbio, Associate Professor of Philosophy, Western Sydney University; Author of Sacrifice in the Post-Kantian Tradition and God and the Self in Hegel
"Fault Lines is an engrossing novella about an unexpected friendship between women, portrayed with sensitivity and nuance. Sarah Bacaller has crafted a moving exploration of faith and hope in the face of death."

– Elizabeth Klett, Professor of Literature, University of Houston-Clear Lake
"Sarah Bacaller writes with singular heuristic passion through a richly modulated voice that registers literary, philosophical, theological, and psychological insights. The Fault Lines Founding Liberty represents a composite exploration of human dignity, integrity, and Christian faith that is warmly and sensitively cast within familiar contexts of life."

– Stephen Curkpatrick, Senior Lecturer in Christian Thought and History, University of Divinity
"We write our biography by attending to the stories of others. Attentive to another, our storyteller discovers a mirror and a portrait in shared cups of tea, stories, and letters. 'What does it take to know a person?' To attend to them in death and to see them live in your own story. Look into Sarah Bacaller's mirror and see your own life afresh. Sit with this story; find faith, hope, and charity anew."

– John Capper, Anglican Minister; Academic Dean, Stirling Theological College, University of Divinity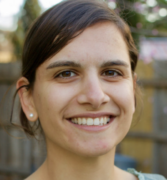 Sarah is a graduate of Monash University (Arts) and the University of Divinity (Theology) and is a classroom and online tutor in the discipline of Christian Theology at Stirling. Sarah has undertaken significant research on GR Stirling's Page 13 publications. As the Stirling Online Teaching Support Officer, Sarah works with the Academic Dean and the academic and administrative staff to develop Stirling Online initiatives, and to help Stirling continue to serve God's church and people through online education.