Sixty people gathered in the Study Centre at Yarra Theological Union on the evening of 2 October for the launch of Dear Mother Dear Father: Letters Home from John Corcoran Wallis 1927-1949. This significant volume makes available letters of Fr Wallis covering two decades of his younger life. They offer a window into another era of the Australian Church and, in particular, into a man who would make a unique contribution through the founding of the Missionary Sisters of Service. I had the privilege of launching the book and paying tribute to Bernadette Wallis, Missionary Sister of Service and niece of Fr Wallis, whose vision, scholarship and dedication brought this book to fruition. Its publication is one activity marking 75 years of the Missionary Sisters of Service.
In my remarks, I noted that the publication of letters has particular value ― thus, Blessed John Henry Cardinal Newman wrote to his sister in 1863:
… the true life of a man is in his letters … Not only for the interest of a biography, but for arriving at the inside of things, the publication of letters is the true method. Biographers varnish, they assign motives, they conjecture feeling … but contemporary letters are facts [Newman to Mrs John Mozley, 18 May 1863].
In ten chapters, Dear Mother Dear Father assembles 100 letters into sections marking significant stages of John Wallis' life up to his late thirties, including:
Entering St Columba's Seminary in Springwood at 16 years of age
Progressing to St Patrick's Seminary in Manly
His Ordination Year
His early years of ministry in Tasmania
Testing his vocation as a Columban missionary
Returning to Tasmania, and
Founding the Missionary Sisters of Service (or the Home Missionary Sisters of Our Lady as they were called initially), when he was 33 years old.
A family and historical context is provided for each letter and each chapter concludes with a reflection by a pertinent Church figure, including Emeritus Archbishop Adrian Doyle, Frs Austin Cooper OMI, Edmund Campion and David Ranson, and Sr Corrie van den Bosch mss. The foreword is by Professor Frank Brennan SJ AO and the epilogue by Sr Stancea Vichie mss, Congregational Leader. In his reflection, David Ranson sees in Fr Wallis:
an understanding of priesthood that will be echoed 80 years later in Pope Francis' metaphor of mercy as the key to priestly life, understood as passionate involvement with those who find themselves on the margins [p. 383].
The letters came to light in 2014 in the Missionary Sisters of Service archives in Hobart. The correspondence had been placed there in 1966 by John's brother, Fr Brian Wallis, who had requested that the letters be kept secret until after John's death. We can be grateful that they were preserved. We can be especially grateful to Bernadette Wallis and Coventry Press that they have now been professionally published.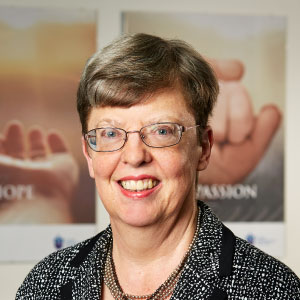 Professor Gabrielle McMullen AM FRACI is Deputy Chancellor at the University of Divinity.
Following postdoctoral research in Germany, Professor Gabrielle McMullen joined the Department of Biochemistry at Monash University and also became Dean of its Catholic residence, Mannix College, in 1981. She was then Rector of Australian Catholic University's (ACU) Ballarat campus from 1995-2000 and its Pro- and Deputy Vice-Chancellor (Academic) until February 2011. In July 2011 she was appointed a Trustee of Mary Aikenhead Ministries, which was established by Sisters of Charity of Australia in 2009 to continue their health and aged care, education and social service ministries.
Professor McMullen is a member of the Council of the University of Divinity and also of the Council of the Divine Word University in Madang, Papua New Guinea. Her other community contributions have encompassed membership of education, health, theological and community services boards. A member of the Australian Catholic Council for Pastoral Research, her personal research interests include Catholic identity and mission, and the history of science.