Did you know that Eva Burrows Library is one of the many theological libraries around the world? Located on the campus of the Eva Burrows College in Ringwood, Victoria, our library has an outstanding collection for study, research, teaching and leisure reading.
This month we celebrate our Library and ask "What is a theological librarian?" Librarians working in a theological library often have very specialised skills and sometimes a knowledge of Theology. We often work as part of a small team, so we need to have a variety of information, cataloguing, information technology and research skills.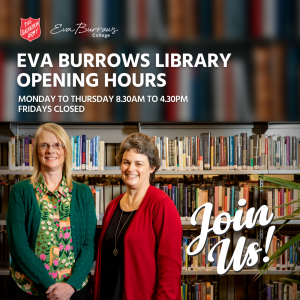 Librarian Felicity McGuire-Bell has worked in public libraries for many years and is excited to return to the academic libraries once again. Library Manager, Robyn Fagan, has a breadth of experience across public, academic, corporate, school and theological libraries. We both enjoy finding resources for the curly questions and resources that you need to support your study, learning and leisure reading. Joining the Eva Burrows library is free and open to all! Contact us at library@ebc.edu.au or visit evaburrowscollege.edu.au/library to browse the catalogue today!