We mourn the passing of Rev Professor Emeritus Norman Ford SDB, a priest and scholar who has made a singular contribution to Catholic Theological College and the University, and to the field of moral philosophy and bioethics internationally.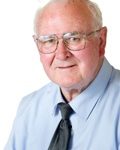 Born in 1935 in Ballarat, Victoria, Fr Norm completed Salesian novitiate in 1953. After making final profession on 31st January 1959 in Sunbury, Norm studied theology in Italy and was ordained a priest at Turin in 1964. After his return from Italy, Norm spent most of his life and ministry around the formation of young Salesians in training in Melbourne.
Fr Norman began academic work at Catholic Theological College in 1975, teaching and researching in moral philosophy and theological ethics. He was the foundation Head of the Philosophy Department (1975-2006) and was Master of the College (1986-1991). During his term as Master, Fr Norm oversaw innovative partnerships with the University of Melbourne and Monash University, and the delivery of CTC courses in Traralgon. He gained international recognition for his scholarship in the field of bioethics, had an outstanding publications record, and was a regular participant and invited speaker at international conferences up to his retirement. He was the Foundation Director of the Caroline Chisholm Centre for Health Ethics in East Melbourne (1999-2007). He was appointed a Senior Fellow of the College in 2001.
Fr Norman served as Vice-President (1989-1990) and President (1991-1993) of the Melbourne College of Divinity (now University of Divinity) and was appointed Professor Emeritus of the University of Divinity in 2016. As his Senior Fellow citation states, Professor Ford was 'a formidable and courageous scholar, who is deeply committed to the Catholic tradition and ready to engage with the most complex questions bearing on the significance and value of human life from conception to the grave.'
In retirement Fr Norm was a member of the Salesian Community in Brunswick and moved into the Mercy Place in East Melbourne as a resident in 2019. Fr Norm was 87 years of age. He was a professed son of Don Bosco for 69 years, and a priest of the Catholic Church for 58 years.
CTC Master, Rev Dr Kevin Lenehan, paid tribute to Fr Norm's contribution to the College for over forty years, and sent the condolences of the CTC community to the Salesian family. He said 'Fr Norm was an educator not only in the fundamentals of personalist philosophy, Catholic moral enquiry and bioethics, but also in a life of priestly ministry dedicated to the human flourishing of people in the concrete situations of their lives, expressed in the compassionate concern and critical thinking that characterised his Salesian spirituality.'
CTC is committed to the highest standards of teaching and research in philosophy and theology, within the Catholic tradition. It collaborates in the Church's mission to spread the Gospel, and provides academic formation for people committed to the pastoral service of the Church.