Indigenous elders speaking at a major University of Divinity (UD) forum on Saturday, 5 April 2019 declared that history was being made on the evening.  In a packed auditorium at UD's Whitley College, speakers praised the ecumenical context of the forum and the University's commitment to Indigenous Theologies.
A spell-bound audience of Indigenous and non-Indigenous participants, with many a moist eye, heard of past failures of the mainstream churches to respond to Indigenous Australians 'knocking on the door' and seeking to enrich the churches with Indigenous Theologies. Now, through the UD's new program offered with NAIITS: An Indigenous Learning Community and a collaboration of Canadian and Australian First Peoples, the inclusion of Indigenous Theologies in Australian theological education and research was being realised in an historically significant way.
The speakers at the forum entitled Exploring Indigenous Theology as a Bridge for Moving towards Reconciliation were:
Uncle Reverend Ray Minniecon, Aboriginal Elder, NAIITS Board Member and Program Elder at the University of Divinity
Reverend Dr Garry Worete Deverell, Aboriginal theologian and Vicar of St Agnes Anglican Church, Black Rock
Aunty Reverend Patricia Courtenay, Aboriginal Elder and NAIITS international faculty
Aunty Jean Phillips, Aboriginal Elder and Vision Leader of the Grasstree Gathering
Brooke Prentis, Senior Fellow, Anglican Deaconess Ministry 2019 and NAIITS Board Member
Uncle Reverend Dr Terry LeBlanc, Mi'kmaq-Arcadian Elder, Executive Director of Indigenous Pathways and Director, NAIITS: An International Learning Community.
The evening was facilitated by Naomi Wolfe, Lecturer from Australian Catholic University and NAIITS Board Member. The Wandiligong Fund, which was established by the late Reverend Robert Sherwood Houghton to further Indigenous theological education, sponsored the forum.
At the conclusion of the speakers' addresses, the University, Whitley College and NAIITS: An Indigenous Learning Community signed an agreement to advance the Indigenous Theologies initiative. The University of Divinity has a major strategic goal: To support Aboriginal people and Torres Strait Islanders to engage in theological education, scholarship and research.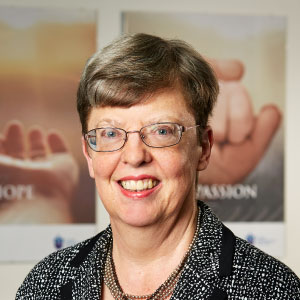 Professor Gabrielle McMullen AM FRACI is Deputy Chancellor at the University of Divinity.
Following postdoctoral research in Germany, Professor Gabrielle McMullen joined the Department of Biochemistry at Monash University and also became Dean of its Catholic residence, Mannix College, in 1981. She was then Rector of Australian Catholic University's (ACU) Ballarat campus from 1995-2000 and its Pro- and Deputy Vice-Chancellor (Academic) until February 2011. In July 2011 she was appointed a Trustee of Mary Aikenhead Ministries, which was established by Sisters of Charity of Australia in 2009 to continue their health and aged care, education and social service ministries.
Professor McMullen is a member of the Council of the University of Divinity and also of the Council of the Divine Word University in Madang, Papua New Guinea. Her other community contributions have encompassed membership of education, health, theological and community services boards. A member of the Australian Catholic Council for Pastoral Research, her personal research interests include Catholic identity and mission, and the history of science.