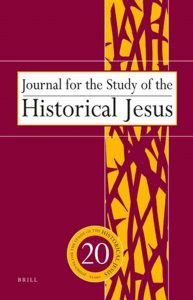 Dr Robert Myles of Wollaston Theological College in the University of Divinity has been appointed as the next Executive Editor of the Journal for the Study of the Historical Jesus, effective 1 March 2023.
Robert is widely published in historical Jesus studies and is the co-author with James Crossley of a new book Jesus: A Life in Class Conflict which will be officially released later this month. He has an ongoing interest in histories from below and will be encouraging submissions to the journal which engage historical Jesus research from this perspective.
The journal, published by Brill, provides an international forum for the academic discussion of Jesus within the context of first-century Palestine. The journal is accessible to all who are interested in how this complex topic has been addressed in the past and how it is approached today. It investigates the social, cultural and historical context in which Jesus lived, discusses methodological issues surrounding the reconstruction of the historical Jesus, examines the history of research on Jesus, and explores how the life of Jesus has been portrayed in the arts and other media. The journal presents articles and book reviews discussing the latest developments in academic research in order to shed new light on Jesus and his world.
Robert will take over the reins along with Dr Sarah Rollens of Rhodes College in Memphis, Tennessee. Both incoming editors are keen to support high quality scholarship which engages in metacriticism of the sub-discipline, further explores the reception history of Jesus, while continuing to foster traditional explorations of the historical Jesus within his first-century context.
Wollaston Theological College helps all members to become confident, passionate and equipped members of the Body of Christ, willing and able to engage dynamically and effectively with society.