Mrs Tricia Lewis, the Office of the Vice-Chancellor's (OVC) Business Manager, was awarded the University Distinguished Service Medal on Wednesday 31 October 2018. Tricia will conclude her employment with the University in November 2018, following 17 years of dedicated service in a variety of roles. During this time she has been instrumental in the institution's growth and development. She began in an office comprised of a Dean and four staff in 2001 and leaves the present OVC with eighteen employees. She began at a College and concludes from a University.
About the award, the Vice-Chancellor, Professor Peter Sherlock, said: "Tricia has been a lynchpin in the University: she has worked closely with a very wide number of staff across the Colleges and Libraries and has done her utmost at all times to support both students and colleagues. As the longest-serving employee in the OVC, she will be deeply missed across the University."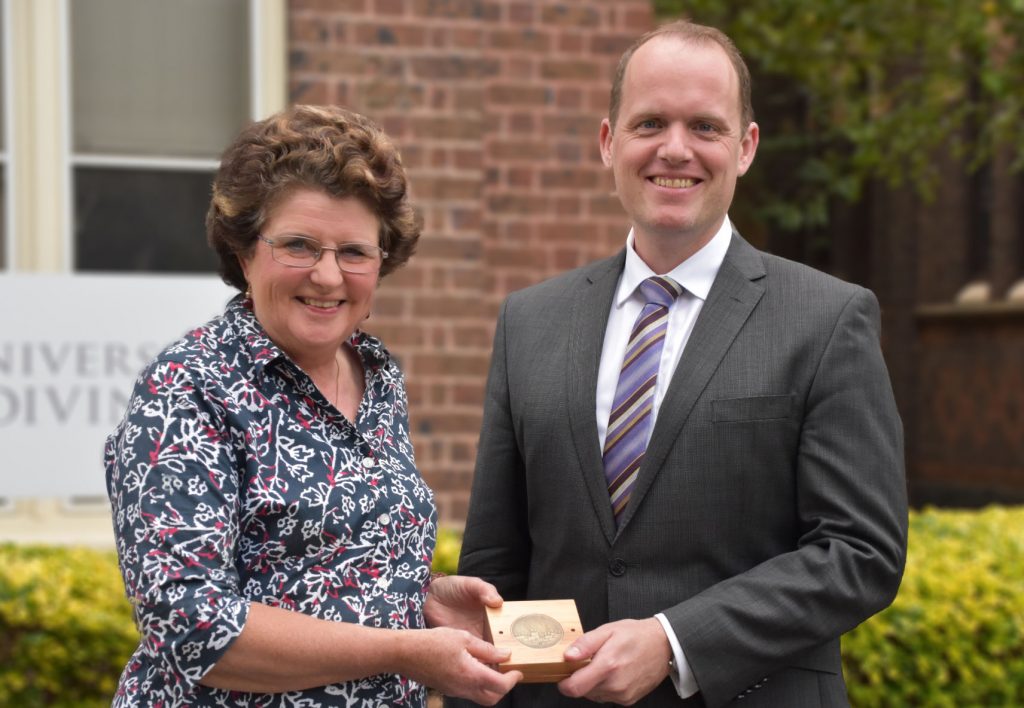 At a farewell event, Tricia paid tribute to the enormous amount of change and growth that she had witnessed over the years. When she commenced at the Melbourne College of Divinity (MCD) in October 2001, she was the first dedicated finance staff member. When MCD first moved to 21 Highbury Grove in Kew, the Dean, Reverend Harold Pidwell, resided upstairs while the downstairs rooms became offices during the day. Tricia described how the building was newly converted fully into offices when she began. Change was always afoot and throughout her years of service, Tricia worked in almost all of the rooms in the stately Victorian manse.
Asked about her fondest memories, Tricia described how it was "a special thrill to attend the reception at Government House and have the Victorian Government contribute a significant sum of money to allow MCD to prepare an application for specialist University status. The long hours and team effort in preparing the submission was all worth it when the outcome was favourable."
Outside of her work, Tricia is an avid dragonboat paddler and an active member of a local racing team. A true team-player and leader, Tricia's role on the team of 22 paddlers is to be the person who stands at the back and steers the boat and is responsible for the safety of all the team members, ensuring paddlers are able to keep to a steady rhythm. Everyone who knows Tricia will recognise these attributes in her daily work. She has, for instance, been a member of the OVC Health and Safety Committee. Quietly leading and always caring for her team, Tricia has been an outstanding member of the University.
She will be missed. We wish her well.