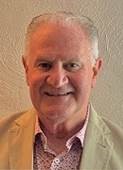 Catholic Theological College, a college of the University of Divinity, is delighted to announce the appointment of a new College Registrar. Dr Christopher Knauf will take up this position from the beginning of June 2022. Chris holds the Bachelor and Master of Theology, the Graduate Diploma in Education (Secondary), the Graduate Certificate in Guiding Meditation, and has recently completed the Doctor of Philosophy in the University of Divinity, with a dissertation on Meister Eckhart's understanding of union with God. He has employment experience in pastoral leadership and secondary education. He has worked as Religious Education Coordinator and Year Level Coordinator, and recently as Assistant Principal (Catholic Identity) at St Bernard's College Essendon. Chris has been a guest lecturer in Christian spirituality at Jesuit College of Spirituality and Catholic Theological College.
We welcome Chris to this significant role in the College. The Registrar leads and manages the College's Academic Records Office and its staff, and is responsible for all matters relating to student records. The Registrar supports CTC's Academic Dean, Postgraduate Coordinator and Associate Dean (Research) by assisting with student enquiries, enrolment, course completion, and graduation procedures. As a member of the College Executive, the Registrar contributes to the strategic and operational management of the College. The Registrar represents the College on the University's Student Services Committee and contributes to the University's policy framework and quality assurance in relation to student services.
The CTC community warmly welcomes Chris in this new involvement in the College's mission and service.
CTC is committed to the highest standards of teaching and research in philosophy and theology, within the Catholic tradition. It collaborates in the Church's mission to spread the Gospel, and provides academic formation for people committed to the pastoral service of the Church.