Earlier this year University Council member Professor Gabrielle McMullen AM was invited to speak at the second annual International Festival of Creativity in Church Management. The 2018 Festival held on 25-27 June at Villanova University in Philadelphia.
The International Festivals are a joint initiative of Villanova University and the Pontifical Lateran University in Rome, where the first Festival was held in 2017. Their aim is "to explore new pastoral ways to proclaim the Gospel in a changing world. The fundamental purpose … is to create a community to research, exchange and compare best practices in Church Management … to develop new solutions to Church Management challenges and explore the Entrepreneurial Spirit in a Mission-Driven Church".
Gabrielle's presentation at the 2018 Festival was entitled 'Advancing Lay Leadership in the Australian Church' – it focused on the establishment of the Association of Ministerial PJPs Ltd, which Gabrielle describes as "an historic development for the Australian Catholic Church in relation to lay ecclesial leadership". She noted in her paper that, since 1994, ten new foundations (formally titled ministerial public juridic persons [PJPs] in Church law) have been established in Australia to take education, health and community service ministries of religious congregations into the future as works of the Catholic Church.
In the period 2012-2016, representatives of these PJPs explored means of fostering collaboration between the respective entities, leading to the establishment of the Association of Ministerial PJPs Ltd in May 2016. This is now the peak body for these new lay-led Church ministries and provides a vehicle for them to interact formally with one another and, in a corporate sense, with the Australian Bishops and Church agencies. From 2011-2017, Gabrielle was a Trustee of one such PJP, Mary Aikenhead Ministries, which has taken responsibility for education, health and aged care, social service and research ministries previously conducted by the Religious Sisters of Charity of Australia.
Festival keynote speaker Chris Lowney, one-time Jesuit seminarian and later a Managing Director of JP Morgan on three continents, considered 'The Entrepreneurial Spirit in a Mission-Driven Church'.
A key element of the Festival were five sessions of parallel research presentations when 3-4 invited speakers made their contributions to describing creativity in Church management – Gabrielle's presentation in the first session was well-received and, significantly, the only paper at the Festival addressing the ministerial PJPs, which are such an important development in lay-led governance for the Catholic Church.
The Festival also featured two major panel discussions on 'Creativity in Structuring Organisations for Growth and Mission' and 'Creative Uses of Technology to Scale Affordably', respectively, as well as moderated and rotating table discussion. The latter process arrived at some agreed principles and practices for enhancing Church management. With the Festival utilising "multiple formats to maximise creativity", "social experiences" over meals and refreshments were also an important part of the program for fostering exchange of ideas and experiences.
Amongst the sixty attendees at the 2018 Festival were two other Australians, UD Honorary Research Fellow Dr Bob Dixon, former Director of the Australian Catholic Bishops Conference's Pastoral Research Office, and Fr Brian Lucas, National Director of Catholic Mission Australia.
Gabrielle said, "It was a privilege to attend the second annual International Festival of Creativity in Church Management and a source of hope and inspiration to learn of many initiatives in diverse communities whereby the contemporary Church is responding to the 'signs of the times'". Upon her return home, she finalised a paper based on her presentation which will be published later this year in the joint proceedings of the two International Festivals of Creativity in Church Management.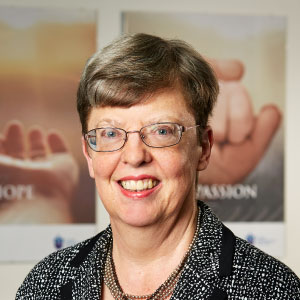 Professor Gabrielle McMullen AM FRACI is Deputy Chancellor at the University of Divinity.
Following postdoctoral research in Germany, Professor Gabrielle McMullen joined the Department of Biochemistry at Monash University and also became Dean of its Catholic residence, Mannix College, in 1981. She was then Rector of Australian Catholic University's (ACU) Ballarat campus from 1995-2000 and its Pro- and Deputy Vice-Chancellor (Academic) until February 2011. In July 2011 she was appointed a Trustee of Mary Aikenhead Ministries, which was established by Sisters of Charity of Australia in 2009 to continue their health and aged care, education and social service ministries.
Professor McMullen is a member of the Council of the University of Divinity and also of the Council of the Divine Word University in Madang, Papua New Guinea. Her other community contributions have encompassed membership of education, health, theological and community services boards. A member of the Australian Catholic Council for Pastoral Research, her personal research interests include Catholic identity and mission, and the history of science.