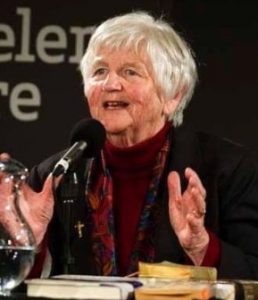 Congratulations to Professor Maryanne Confoy RSC who will be recognised next year as a Distinguished Alumni Award Winner at the Boston College School of Theology and Ministry.
Maryanne will be honoured for several reasons: being the first PhD graduate of the IREPM; for her contribution to the School's life with her teaching at the Summer Institute and, more recently, at STM's summer school. Moreso, Maryanne has a distinguished career as a religious, teacher, and scholar, working in areas near and dear to the Boston College School of Theology and Ministry, namely ministry and spirituality.
In addition to receiving the award, Maryanne will give the Second Annual Daniel J. Harrington, S.J. Lecture. The lecture, addressed primarily to recent graduates and current students, will allow Maryanne to offer her reflections on ministry in the Church today.
The event will be held in Boston in April 2020.
Jesuit College of Spirituality is a College of the University of Divinity and a work of the Australian Province of the Society of Jesus. Jesuit College of Spirituality is dedicated to promoting interest in Christian spirituality, pastoral formation and their allied disciplines, and to provide the opportunity to develop among its community of communities (ecclesial and academic) the means to further their research and continuing study interests through formal and informal opportunities.