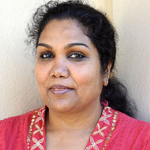 Dr Monica Jyotsna Melanchthon, Associate Professor of Hebrew Bible/Old Testament Studies at the Pilgrim Theological College, has recently been announced as a recipient of the Society of Biblical Literature's (SBL) Outstanding Mentor Award.
The SBL and its Committee on Underrepresented Racial and Ethnic Minorities in the Profession (CUREMP) established this award in 2020 to honour scholars of colour who provide exceptional mentorship to other scholars/students of colour. Monica and her co-winner, Dr Efraín Agosto, were nominated for this award because of their influence in the field through their scholarship, teaching, and mentoring.
Monica, an Indian national, is Associate Professor of Hebrew Bible/Old Testament Studies at the Pilgrim Theological College, where she has been since May 2012. Before this, she served on the Biblical Studies faculty of the Gurukul Lutheran Theological College, Chennai, India for 17 years. She is grateful for the opportunity to facilitate the learning and growth of her students and is indebted to the many who have partnered her and enabled her own formation as a theological educator. She positions herself as a feminist advocate and a liberation theologian, committed to producing reflections and texts that resist and counter cultures and languages of dominance that exclude the voices of the oppressed. She has published in various academic books focusing primarily on interpretations of OT texts from the perspective of the Indian context and the marginalized adopting an approach that is critical, contextual, interdisciplinary, intersectional, and liberative. She draws on insights derived from the lived experiences and social biographies of the marginalized, particularly women and Dalits to interpret the biblical text. Her most recent works include the co-edited volumes, Terror in the Bible: Rhetoric, Gender and Violence (IVBS, SBL, 2021), and Bible Blindspots: Dispersion and Othering (PICKWICK Publications, 2021).
The full story can be read here.
The University congratulates Monica on this well-earned achievement.