The 2019 Leadership Retreat was held on Saturday, 18 May 2019 at the Catholic Leadership Centre in East Melbourne. Twelve Council members, seven College Principals (or their delegate), the University's Senior Management Team, Reverend Dr Gordon Preece and three presenters attended the forum. The aim of the day, as stated in Goal 12 of the University Strategic Plan 2016-2025, was to focus: "on cultural awareness training and identifying further avenues for Indigenous engagement". Thus, the program was divided into two major sessions – in the morning, cultural awareness training and in the afternoon, envisioning the Colleges contributions to the University's Indigenous goal.
The morning commenced with a smoking ceremony, Acknowledgment of Country and Kin, and a reflection in the grounds of the Catholic Leadership Centre. These were led by Aunty Reverend Patricia Courtenay, Aboriginal Elder and NAIITS international faculty member, and Naomi Wolfe, Lecturer at Australian Catholic University and NAIITS Board Member, who is currently also undertaking a part-time secondment to the University of Divinity in support of the Indigenous goal.
Participants then gathered in the Catholic Leadership Centre, where following a short welcome from each of the Chancellor and Acting Vice-Chancellor, Aunty Patricia and Naomi lead the cultural awareness training. The first half of the morning session was entitled 'Understanding Context and Celebrating the Journey so far'. It included viewing a video of Uncle Reverend Ray Minniecon, NAIITS Board Member and UD Program Elder, on his 15-year 'journey' to the University of Divinity and an authentic Indigenous Theologies program. Participants also participated in a self-awareness exercise. After morning tea, training continued with 'Practical Skills for Advancing the Aboriginal and Torres Strait Islander Theology Strategic Goal'.
The post-lunch program looked at 'Sharing the Collegiate Journey' and 'Equipping us for the Next Steps' towards the Indigenous goal. Each College of the University was invited to make a presentation related to its context. Three Colleges, which could not be represented on the day, summarised their relevant activities in written reports. Another College made its contribution by means of a videoed presentation by the Principal who was not available to attend on the day.
Several interesting and diverse presentations were made during the afternoon session. Colleges participate a range of activities to promote Indigenous culture awareness and to promote reconciliation. They also reported on diverse contributions and commitments, to greater and lesser degrees, to the Indigenous goal. Reverend Dr Anne Mallaby told the story of the NAIITS program at Whitley College which has been in place since 2017 and now has three graduates, including Auntie Patricia and Naomi. Australian Lutheran College illustrated its contribution with a viewing of an ABC Compass program on offering theology in the bush (accessible at www.abc.net.au/religion/watch/compass/the-bushpreachers/10142466). All Colleges indicated their commitment to the Indigenous goal and willingness to explore greater involvement.
The day concluded with refreshments and an opportunity to share impressions of the retreat and explore moving forward. Some days later, one member of Council, commenting on his experience of the day, noted how proud he was to be part of the University with its distinctive mission.
Uncle Ray spoke, in the above-mentioned video, about Indigenous peoples knocking on church doors over decades and churches not being open to Indigenous theologies. Now is the time for our churches to knock on Indigenous doors and invite Indigenous theologies to enrich our churches.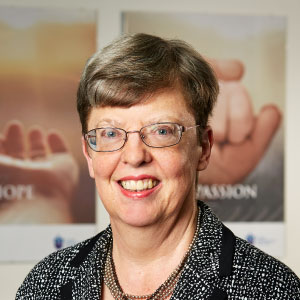 Professor Gabrielle McMullen AM FRACI is Deputy Chancellor at the University of Divinity.
Following postdoctoral research in Germany, Professor Gabrielle McMullen joined the Department of Biochemistry at Monash University and also became Dean of its Catholic residence, Mannix College, in 1981. She was then Rector of Australian Catholic University's (ACU) Ballarat campus from 1995-2000 and its Pro- and Deputy Vice-Chancellor (Academic) until February 2011. In July 2011 she was appointed a Trustee of Mary Aikenhead Ministries, which was established by Sisters of Charity of Australia in 2009 to continue their health and aged care, education and social service ministries.
Professor McMullen is a member of the Council of the University of Divinity and also of the Council of the Divine Word University in Madang, Papua New Guinea. Her other community contributions have encompassed membership of education, health, theological and community services boards. A member of the Australian Catholic Council for Pastoral Research, her personal research interests include Catholic identity and mission, and the history of science.