The ecclesial community gathers to give praise and thanks to God through liturgical and sacramental celebrations. The unit will cover the role and meaning of liturgical celebrations. Students will then be introduced to the study of sacraments and sacramentality through an exploration of the notions of "sacrament", "ritual", "symbol", "presence", and "encounter". The unit introduces the notions of Christ as primordial sacrament and the Church as sacrament of Christ in the world. It explores each of the seven sacraments and several sacramentals from anthropological, biblical, liturgical, historical and contemporary perspectives.
See the attached flyer for more information.
| | |
| --- | --- |
| Lecturer | Reverend Dr Elio Capra SDB |
| Level | Level 8 |
| Study Mode | Semester 2, 2020: offered online: Thursdays from 30 July: 10.00am — 1.00pm |
| Unit Code | CT8610C |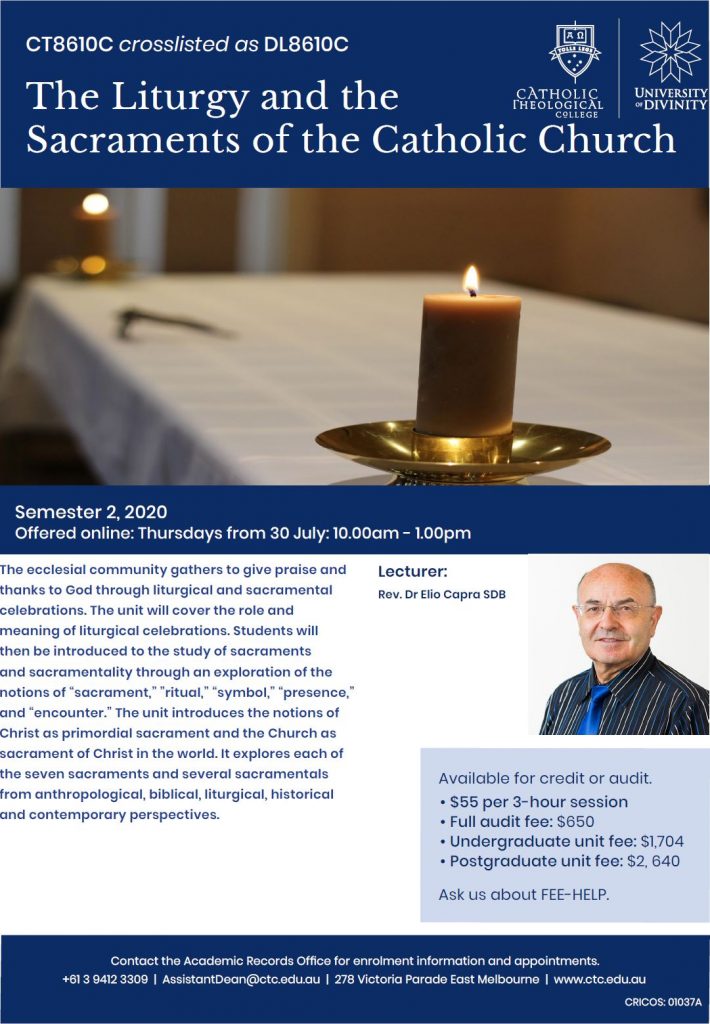 CTC is committed to the highest standards of teaching and research in philosophy and theology, within the Catholic tradition. It collaborates in the Church's mission to spread the Gospel, and provides academic formation for people committed to the pastoral service of the Church.