Catholic Theological College provides a variety of study options for teachers in Catholic schools to meet their accreditation requirements and to enhance professional knowledge and skills in Religious Education and leadership in Catholic schools.
Study Options:
You can gain accreditation or enhance your pedagogical practice and leadership by enrolling:
in an approved course
in a single unit for credit (see options overleaf)
as an audit student (without assessment or credit)
in professional development modules through the semester
for the 2-day Catholic Dialogue School Seminar
View the flyer for more information.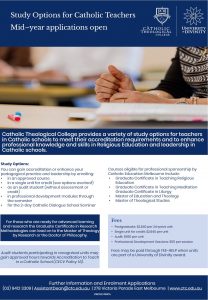 CTC is committed to the highest standards of teaching and research in philosophy and theology, within the Catholic tradition. It collaborates in the Church's mission to spread the Gospel, and provides academic formation for people committed to the pastoral service of the Church.