Lecturer:
Reverend Dr Richard Leonard SJ
The unit will explore the relationship between Gospel narratives and contemporary life situations. A key focus will be on the role of the imagination in prayer, as outlined by Saint Ignatius. When an exercitant prays over a Gospel passage, he or she enters fully into it as a participant. Through the joint lenses of Ignatian Spirituality and human narratives as played out in film, the following areas of theological inquiry and interdisciplinary issues are covered: christology, ecclesiology, the problem of evil, Christian response to sacrifice and death, theology and culture, pastoral ministry, sacraments, church history, spirituality and ethics: just war theory; capital punishment; and the nature of conscience.
The unit will also explore and analyse the ways in which the cinema can provide examples of imaginative prayer techniques that connect scenes in particular films with some key narratives and themes within Gospel narratives and the Spiritual Exercises. It will explore the psychology of the human imagination and its relevance to the practice of prayer in life, work and ministry.
| | |
| --- | --- |
| Unit Code | DS9071J | DS9079J |
| Level | Postgraduate |
| Study Mode | Face to face and online |
More unit information
Mid-year enrolments are now open.
This unit is due to run in semester 2, 2019. To find out more about the unit, enrolments, or to make an appointment to meet with a course advisor, please contact the College.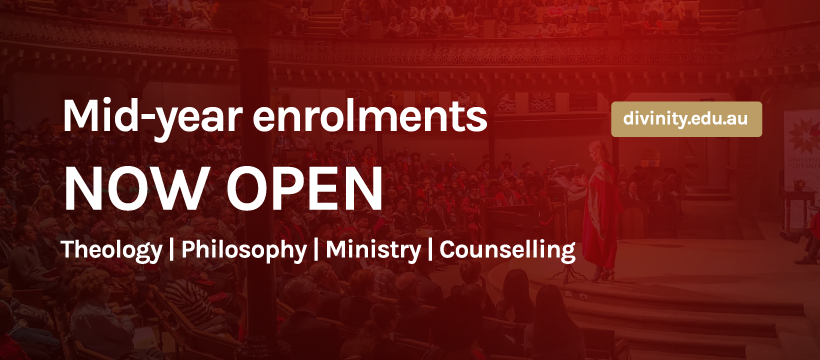 Jesuit College of Spirituality is a College of the University of Divinity and a work of the Australian Province of the Society of Jesus. Jesuit College of Spirituality is dedicated to promoting interest in Christian spirituality, pastoral formation and their allied disciplines, and to provide the opportunity to develop among its community of communities (ecclesial and academic) the means to further their research and continuing study interests through formal and informal opportunities.