In this unit, students will learn to use methods of art appreciation to explore the contemporary significance of central themes of Christian faith. They will investigate and reflect on the role of art in expressing and deepening the viewers' relationship to the Christian tradition and to questions of personal religious experience and openness to transcendence in everyday life. Students will use historical and critical enquiry to investigate the ways artists negotiated the requirements of their civic and religious contexts to produce and promote religious interpretations through their work. In particular, through the contextual and visual analysis of relevant artworks, students will attempt to re-articulate the biblical themes of creation and incarnation within the imaginary of an evolutionary and dynamic cosmology for contemporary audiences.
See the unit flyer for more information.
| | |
| --- | --- |
| Lecturer | Reverend Dr Elio Capra SDB |
| Level | Level 3 and Level 9 |
| Study Mode | Winter Intensive: offered online: Mondays, Wednesdays, and Fridays: 29 June; 1, 3, 6, 8, 10 July: 9.30am — 4.30pm |
| Unit Code | DS3304C |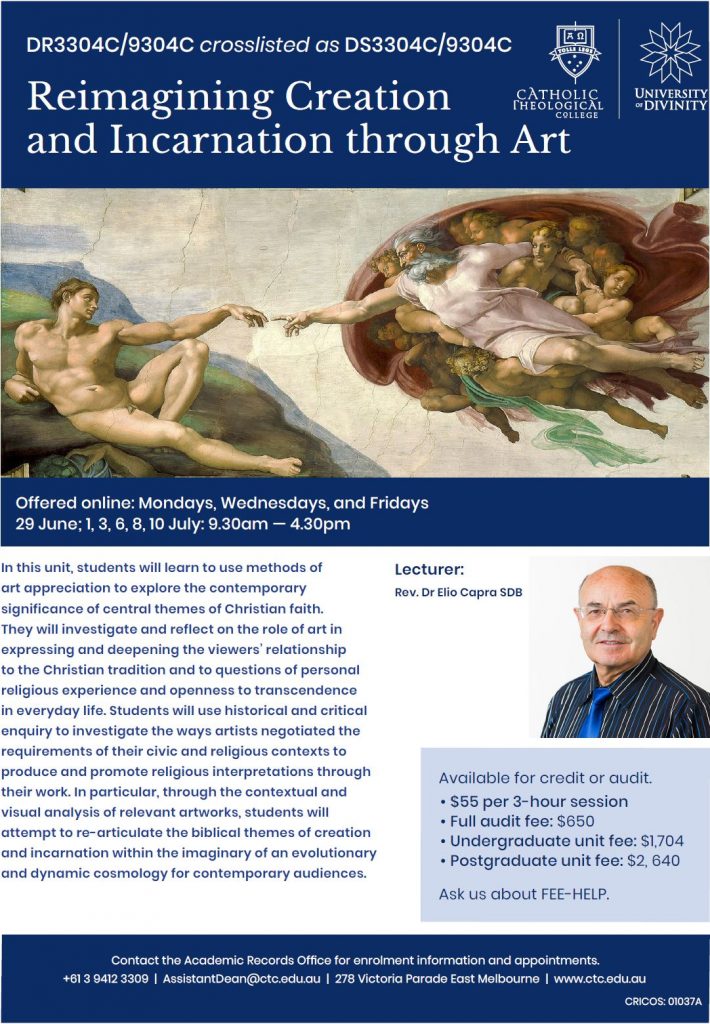 CTC is committed to the highest standards of teaching and research in philosophy and theology, within the Catholic tradition. It collaborates in the Church's mission to spread the Gospel, and provides academic formation for people committed to the pastoral service of the Church.