Come and study in Semester 2 this year! Stirling Theological College offers courses in ministry formation, leadership and counselling among many others.
Find out more about what's on offer in the Stirling Semester 2 brochure and Semester 2 units poster.
Who studies at Stirling?
At Stirling, we recognise the diversity that exists within society and the church. We want to help prepare and equip you to make a difference in your context.
Every student is encouraged, challenged and empowered to contribute to biblical and theological learning and ministry practice.
We have people from diverse life experiences studying for vocational settings such as:
Service, ministry and leadership in churches
Chaplaincy in multiple settings including aged care, industry, schools and hospitals
Community development among the world's urban poor
Bi-vocational settings in Australia and overseas
Aid and community development work
Pastoral care
Ongoing postgraduate research
Personal growth and development in their Christian journey
Featured programs of study
Master of Counselling
The Master of Counselling offers advanced professional knowledge and skills for counsellors. This award has a strong focus on the student's personal attributes, relational capacity and spiritual formation as well as integrative and collaborative approaches to counselling.
Supervision
Graduate Certificate in Supervision and Graduate Diploma in Supervision
Complete a postgraduate course in supervision, designed for experienced practitioners wishing to supervise others.
Clinical Pastoral Education
Placement in a hospital (clinical) setting offers the opportunity to develop skills in pastoral and spiritual care with people across the spectrum of society and to integrate one's operational theology with the actual offering of care in situations of major and minor life transitions.
Level 1 and Level 2 are offered in partnership with ASACPEV (the Association for Supervised and Clinical Pastoral Education in Victoria, Inc).
Successful completion of one CPE placement receives two units of credit towards an award.
Catalyst: For a life of purpose
Diploma in Theology
A one-year university course for young adults and emerging leaders. Catalyst provides students with a unique learning experience to discover a wider worldview, discern calling and develop gifts and theological understanding. Catalyst has a core commitment to integrative mission and holistic gospel –
in vocation, justice, leadership and social entrepreneurship.
In one year, students complete two cross-cultural immersion trips (overseas and local), learn from industry leaders who are making a difference in the world AND complete a university course!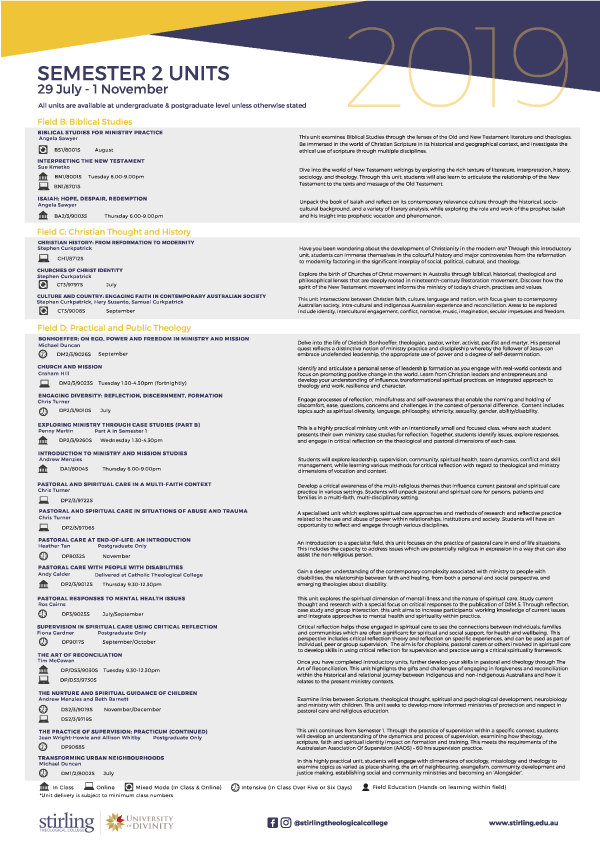 Stirling College is committed to ongoing theological reflection and the formation of each member of our learning community. Stirling is committed to being Christ centred in heart, thought, word and deed. We form people towards Christ centred lives, mission and ministry. Stirling is committed to giving students the best possible skills to read the Bible in its original context and to then reflect on what that means for today and how to apply it in their lives, not just for their own benefit but to benefit the Body of Christ in its diverse and varied expressions.