Study this winter intensive at Catholic Theological College.
This unit will explore how art has been and remains an integral part of the evangelising and catechising mission of the Church. Through art, the unit will explore essential themes of Catholic theology and Scripture, such as: the Trinity, Jesus Christ, Mary, the saints, heaven and hell, the Church, the sacraments, sin and evil, suffering and death, virtues and vices, mission and service. Participants will explore skills and techniques of 'visual literacy' through the examination of the elements of art: colour, line, medium, mood, gesture, framing, lighting and symbols. Students will then be invited to unpack the theological and spiritual elements portrayed through art and compare them with the current teachings of the Catholic Church. In each session, students will explore the pedagogical and catechetical application of the arts for their ministry and mission.
Dates and Times
1, 3, 5, 8, 10, 12 July 2019, 10.00am–5.00pm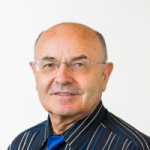 Lecturer
Reverend Dr Elio Capra SDB
Unit Flyer
Download
More information
For a list of separate sessions, please contact Jude Caspersz at Jude.Caspersz@ctc.edu.au.
CTC is committed to the highest standards of teaching and research in philosophy and theology, within the Catholic tradition. It collaborates in the Church's mission to spread the Gospel, and provides academic formation for people committed to the pastoral service of the Church.