This unit is designed for all who wish to contribute in a practical way to the multi-faith and multi-cultural society which Australia has become.
It is designed specifically for teachers, for those involved in parishes, in hospitals, in welfare and so on. It will also be value to those who seek personal development in interfaith.
The unit will assist teachers in implementing the document 'Welcoming Each Other', which has been approved and endorsed by Archbishop Comensoli who asks that education in interfaith be implemented in both primary and secondary schools.
Face-to-face learning on Saturdays in 2020
Lecturer
Reverend Associate Professor John Dupuche

Dr Mary Raeburn NDS

Very Reverend Denis Stanley EV

Level
2, 3, 9
Study Mode
Semester 2, 2020

Offered online over six Saturdays beginning Saturday 25 July: 10am — 12pm & 2pm — 4pm

Unit Code
CT2014C/CT3014C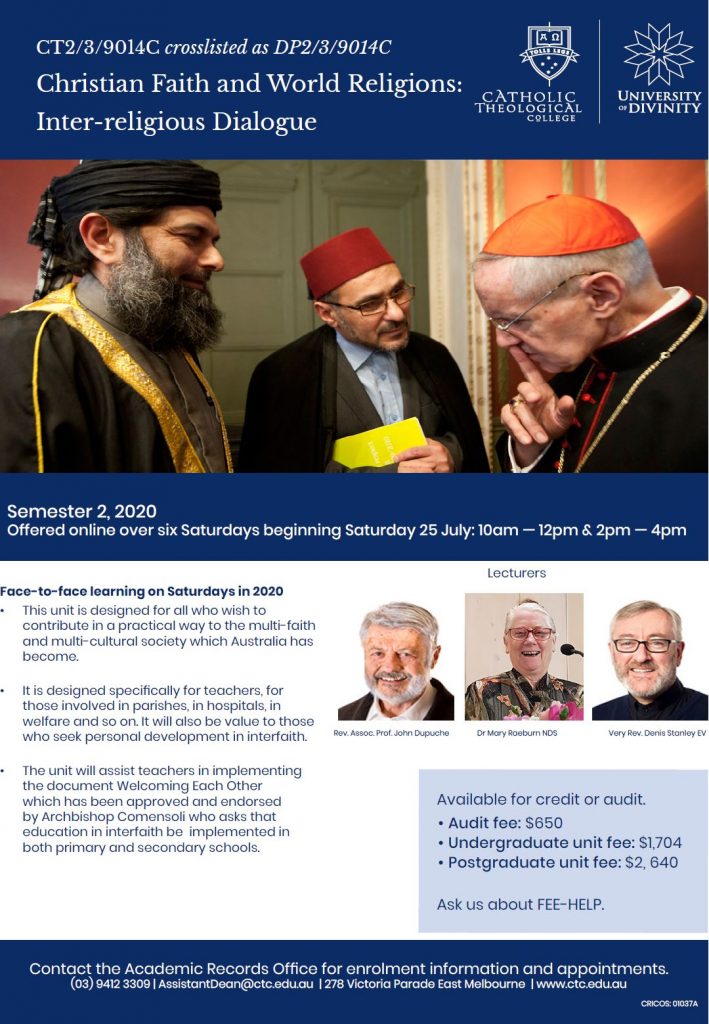 CTC is committed to the highest standards of teaching and research in philosophy and theology, within the Catholic tradition. It collaborates in the Church's mission to spread the Gospel, and provides academic formation for people committed to the pastoral service of the Church.