Semester 2, 2021 at Trinity College Theological School
This intensive unit is designed for Australian Anglican clergy members and parish officers, including bishops, chancellors, advocates and registrars, along with anyone interested in church law and governance. You do not need to be ordained to attend and we welcome students of all backgrounds. The Anglican Church Law and Governance intensive can be taken for credit or audited as a single unit. We will pack a lot of information into this unit to ensure you are up to date in your knowledge about Anglican church law and governance, as it applies to the contemporary church.
Topics include:
theological understandings of the church and law in the New Testament and early church
canon law of the Church of England and Anglican Church of Australia
governance of parishes
the clergy: status, role, responsibilities and discipline
maintenance of professional standards
law and governance of dioceses, provinces and the Australian national church
conduct of worship and the pastoral offices.
This unit is offered as a class-based intensive over two 2.5-day sessions at Trinity College Theological School in Parkville: 1-3 July (Thursday-Saturday) and 22-24 July (Thursday-Saturday).
Unit details
College
Trinity College Theological School
Lecturer
We are pleased to have lined up a number of distinguished bishops, diocesan chancellors and theologians to teach this unit, led by Mr Michael Shand AM QC and the Revd Dr Alex Ross.

 

Our lecturers will include: 

The Most Revd Dr Phillip Aspinall

 

The Right Revd Genieve Blackwell

 

Mr Garth Blake AM SC

 

Judge Elizabeth Brimer QC

 

Mr Michael Codling

 

Ms Rachel Ellyard, Barrister

 

The Hon Keith Mason AC QC

 

The Revd Dr David Powys

 

The Right Revd Alison Taylor

 

Dr Robert Tong AM

 

Level
Level 3; Level 9
Study Mode
Face-to-face
Unit Code
(with link to UMS)

DC3000T

 (Face-to-face)

 

DC9000T (Face-to-face) 
Apply and Enrol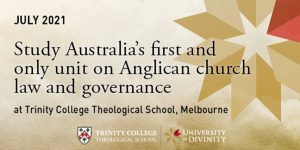 Established in 1877, Trinity College Theological School is committed to shaping men and women who wish to pursue ordination in the Anglican Church, develop skills for lay ministry, or simply explore Christian faith for personal or vocational enrichment and development.