Stirling Theological College's Winter School Online 2020 features world-class online education, interactive video lectures, international guest lecturers, and self-paced online study options. Our Winter School Online offers opportunities to build new relationships between Stirling lecturers, international guests, and students. Our online units provide an ideal pathway for people to grow in their faith, ministry skills, and biblical understandings.
Why offer a Winter School Online?
Why we're running a Winter School Online gets to the heart of why Stirling Theological College exists and innovates.
1.  To equip people to follow Jesus as he heals a hurting world
Our Winter School Online flows naturally out of our desire to equip people to follow Jesus and to serve his mission, church, and world. The world is suffering, broken, and in pain. The global crisis we are in has exposed people to death and suffering in ways they never expected. Stirling Theological College's vision is to be a Christ-centred learning community that equips people to advance God's shalom for the flourishing of the world. This means equipping people to follow Jesus and join him in healing a hurting world. God's people "gather in and around the central figure of Jesus Christ, empowered by the Holy Spirit, living out his Way in their neighbourhoods, and inviting others to do the same." Jesus calls his people to give sacrificially and lovingly to the world, as a witness to the healing power of Christ's sacrifice and love. We join with Jesus as he heals a hurting world.
2.  To equip people to follow Jesus during the current global crisis
We sense that many Christians are eagerly looking for equipping and training in discipleship, ministry, Bible and theology, counselling, and pastoral care. People want to be better equipped and inspired to follow Jesus and to serve his mission, church, and world. This is especially true during the current COVID-19 crisis.
We are living in extraordinary times. Many of us are exploring how to use this time to grow in our faith and in our ability to serve a hurting world. Our challenge to Christians is: Why not use these winter months to explore fresh ways to serve Jesus and his world? Many are experiencing extra time on their hands during the Coronavirus isolation period. Why not use that time to deepen faith through online study? Why not use this time to learn how to follow Jesus more fully, and to explore how to serve him during this current global crisis?
To make that possible, Stirling Theological College is giving people the chance to study for academic credit as part of a University of Divinity award. By taking the units in our Winter School Online, you can do half of the required units towards a Diploma of Theology, complete a full Graduate Certificate in Divinity or you can choose to do stand-alone units for credit into an award of your choice. But many people want to be equipped without having to do a formal award or assessment. That's why we've developed Stirling's professional development (audit) option. Now is an excellent time to join these classes for professional and personal development, supported to grow in your faith and ministry skills. Auditing can be a wonderful opportunity to try out quality Christian studies without the pressure of assessments. Many who audit units love their experience so much they then enrol in an award and graduate with a university degree or diploma.
3.  To equip people to follow Jesus in every area of life
Our Winter School Online is a product of our four core convictions (both the units we have chosen and the way we are delivering them). The beliefs are about helping people follow Jesus in every area of life. To achieve this, we believe that theological and ministry education must be Christ-centred, holistic, relational, and focused on discipleship and mission.
You can read more about our four core convictions in the next article!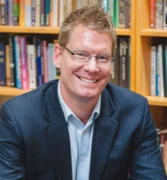 Reverend Associate Professor Graham Joseph Hill served as Principal and Director of Research at Stirling Theological College (University of Divinity) until March 2022. He has planted and pastored churches, and been in theological education for twenty years. Graham is the author or editor of six books including Healing Our Broken Humanity, (IVP, 2018, with Grace Ji-Sun Kim), Salt, Light and a City (Cascade, 2017), and Sunburnt Country, Sweeping Pains (Wipf and Stock, 2022). He also directs The Global Church Project.