On Friday 30 November 2018, three members of the University's Academic Staff were the first to graduate from the University's flagship professional development program.
It is often said and sometimes heeded that "having a PhD doesn't make you a good teacher".  The University's Graduate Certificate in Theological Education is designed to take brilliant knowledge in a discipline and link it with excellent practice in teaching.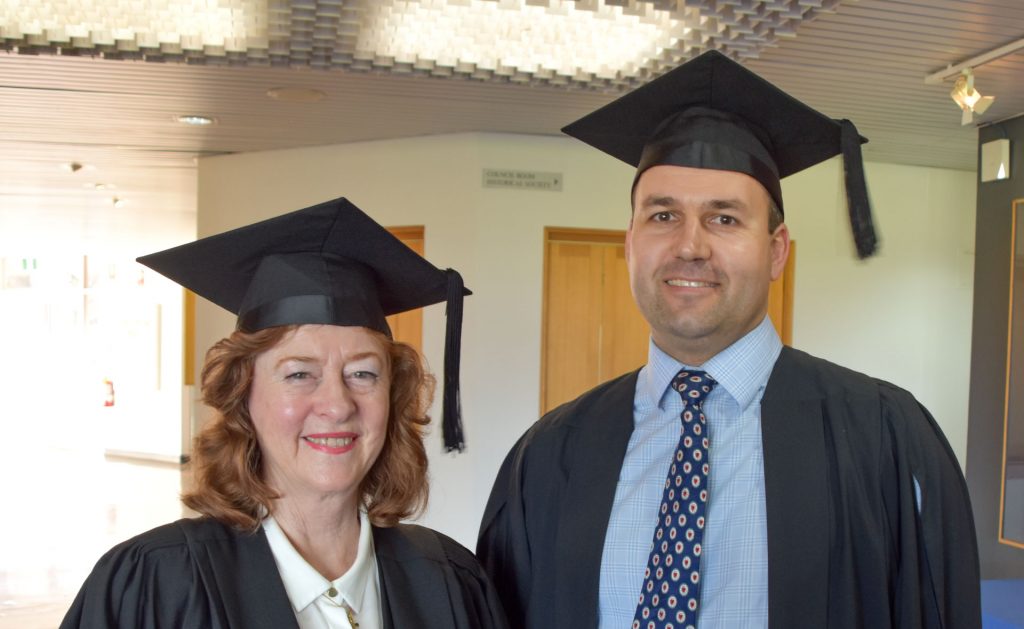 Graduating at the ceremony, Reverend Dr Adam Hensley (Australian Lutheran College) said:
The GCTE provided me with a great opportunity for structured reflection on my teaching. I appreciated how the course was designed to dovetail with my teaching. The course stimulates theological educators to deeper, more purposeful reflective practices in their teaching, provides them up-to-date research on sound principles of adult education and designing high quality units, and engages them in creatively putting these into practice in their own contexts.
Adam has just completed his second year of teaching at ALC. He was a member of the first cohort of students to undertake the program.  He is shown graduating with Reverend Dr Jane Lee-Barker.
Graduating in absentia, Dr Tom Pietsch said:
The final unit allowed me to explore and expand into shaping my own practice….The course reinforced the need to have experience and practice connected to theory."
Tom is including this in his own practice in teaching at ALC.  His students requested an additional class to further explore Augustine.  Congratulations to Tom for taking his teaching to this next level!
Adam reinforced the connections, saying:
I especially enjoyed exploring the intersections between learning and teaching theory and the values that characterize my learning institution. The GCTE has equipped me better to engage the ongoing questions that arise for me as a theological educator.
Associate Professor Frank Rees, Patron of the Program, Chair of the Academic Board and present at the graduation said:
A highlight of my first year as Chair of the University's Academic Board was a visit to a class of the Graduate Certificate in Theological Education.  I found a room abuzz with energy – that enthusiasm that comes from doing something great and challenging, and the achievement of new things.  Present were not just young colleagues, but some who had been teaching – with us and elsewhere – for years.  Merryn Ruwoldt and Stephen Haar did what great teachers do: set high standards, showed good practice and provided nurture and support for all participants.
Principal, James Winderlich has said:
At Australian Lutheran College we have set the GCTE as the standard professional qualification for all of our teaching staff.
The course is a great opportunity for all theological educators to extend their teaching skills to match their disciplinary skills.
Members of the University are offered a reduced price for the GCTE. Find out more in the GCTE University-members flyer.
To discuss your study options, please contact Dr Merryn Ruwoldt ((08) 7120 8200) at Australian Lutheran College.
John Mark Capper is an ordained Anglican theologian, educational leader. He is the Academic Dean at Stirling Theological College, involved in organisational governance as well as in teaching and mentoring teachers in theological education.
John's PhD is from the University of Cambridge, and his ongoing research is in joy, contemporary theology and ministry practice, and theological education, particularly the use of web-based technologies.