Worship in Native Lectionaries Motions – Northey Lecture 2021
Friday, 6 August, 1:30 pm

–

3:00 pm

AEST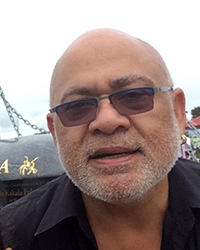 Worship in Native
Lectionaries

Motions

Lecture to be given by Jione Havea

The Revised Common Lectionary (RCL) continues the colonial agenda of the Christian mission. The 'doctrine of discovery' baptised the invasion of the 'new world', and the RCL keeps the converted on the same path of faith, according to the Christian calendar and missionary agenda. The RCL perpetuates the Christian occupation of lands, of faiths, of minds, of spirits, and of practices; in other words, the RCL is a 'doctrine of occupation'. This presentation approaches this awareness from the direction of Natives, driven by two questions: What might Christian worship look like if Christian communities change their minds from seeing the new world as 'mission field' that they are called to convert and save, to seeing those as the homes of newness and wisdoms that could enlighten and save the Christian agenda? What gifts of the new world could Christian communities invite and allow, to invade and occupy their souls?

This presentation reconsiders the ways that we in/of Oceania do worship and theology, which have voyaged along two paths: first, that we explain how our 'contexts' and 'perspectives' support the Christian agenda (the drive of contextuality) and second, that we expose and lament the 'scars of contact' (the drive of postcoloniality). If we were to worship and theologize in the ways of natives (vs. ways of contextuality) and according to the terms of natives (vs. terms of postcoloniality), our worship could be experienced as motions (vs. invasions). From/in Oceania, i invite worshiping in five (com)motions (vs. seasons): (1) native ceremonies (vs. rituals), (2) native wisdoms (vs. uncivilized natives), (3) native prophecies (vs. unhopeful natives), (4) native ancestors (vs. victims, martyrs), (5) native worlds (vs. perspectives, contexts).

This will be a day event – this lecture will be preceded by Liturgy on the Move: Pentecostal, Aboriginal and Secular Collisions  (Tanya Riches) with lunch in between the lectures.
Pilgrim Theological College is an ecumenical college of the University of Divinity, operated by the Uniting Church Synod of Victoria and Tasmania. Pilgrim's courses offer a community of learning, formation and discipleship, inspired by the richness and strength of theological education across the traditions of the Uniting Church and the commitment to ecumenical theology and formation from the United Faculty of Theology.