Towards a just and ecologically sustainable peace
Tuesday, 27 October, 6:00 pm

–

7:30 pm

AEDT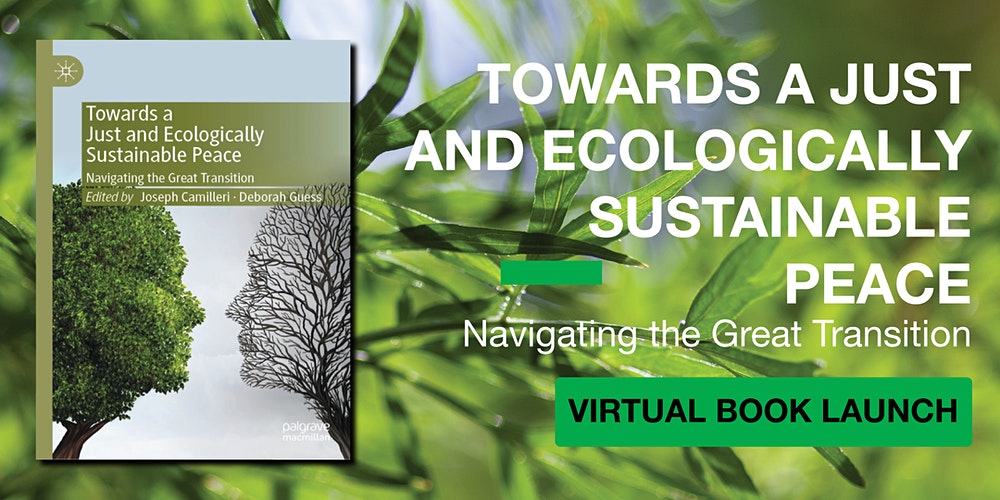 Join us for the release of this important book, to be launched by Dr Vandana Shiva and Prof Richard Falk.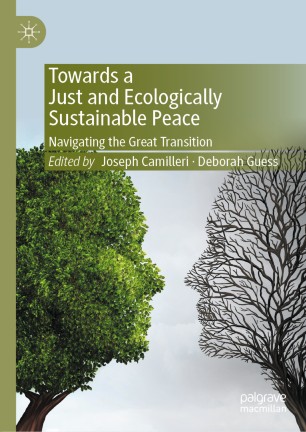 Towards a Just and Ecologically Sustainable Peace: Navigating the Great Transition develops a holistic approach to countering violence that integrates notions of peace, justice and care of the Earth. It identifies the principles that can guide a shift from Just War to Just Peace, theoretically and in practice. It sets out the conditions required for a Just and Ecologically Sustainable Peace by bringing together contributions by Indigenous scholars, international relations scholars, peace studies and nonviolence specialists, and ecological feminists.
Join us for this special, virtual book launch via Zoom. Hosted by Professor Joseph Camilleri and Dr Deborah Guess, it features special presentations by Dr Vandana Shiva and Prof Richard Falk, and authors of the book chapters will be in attendance.
Register to attend the virtual book launch
SPEAKERS
Dr Vandana Shiva
Physicist, ecologist, activist, editor, and author of numerous books, Vandana Shiva is a tireless defender of the environment. She is the founder of Navdanya, a movement for biodiversity conservation and farmers' rights, Director of the Foundation for Science, Technology and Ecology, and Board Member of the International Forum on Globalization.
Prof Richard Falk
Richard Falk is Alfred G. Milbank Professor Emeritus of International Law and Practice at Princeton University, where he taught formore than forty years. He was United Nations Special Rapporteur on Human Rights in Occupied Palestine (2008-14), and has served on scores of Commissions on International Law and Justice.
ABOUT THE EDITORS
Deborah Guess is an Honorary Research Associate and Adjunct Lecturer at Pilgrim Theological College, University of Divinity, Melbourne, Australia. Her primary research areas are eco-theology and Christology. She is currently writing a monograph exploring the eco-theological meaning/s of place.
Joseph A. Camilleri is Emeritus Professor, La Trobe University, Melbourne, Australia and a Fellow of the Academy of Social Sciences in Australia. He chairs the Academic Board of La Trobe College Australia, and is executive director of Alexandria Agenda, a venture in ethical consulting. In 2005 he founded the La Trobe Centre for Dialogue. Under his leadership, the Centre quickly established a national and international reputation for research, training, policy development, and community engagement.
CONTRIBUTING AUTHORS
Joseph Camilleri, Heather Eaton, Ariel Salleh, Freya Mathews, Mehmet Ozalp and Zuleyha Keskin, Salim Farrar, Bruce Duncan, Norman Habel, Shelini Harris, Chaiwat Satha-Anand, Tony Birch, Anne Elvey, Allan Patience, Mark Brett.
SPECIAL OFFER
The publisher Palgrave Macmillan is offering an exclusive 30% discount on hard and electronic copies of the book for those attending the launch (a discount code will be supplied to those attending).
Palgrave Macmillan Publishing