Stirling Summit 2021 and Open Night
Saturday, 27 November, 1:00 pm

–

4:30 pm

AEDT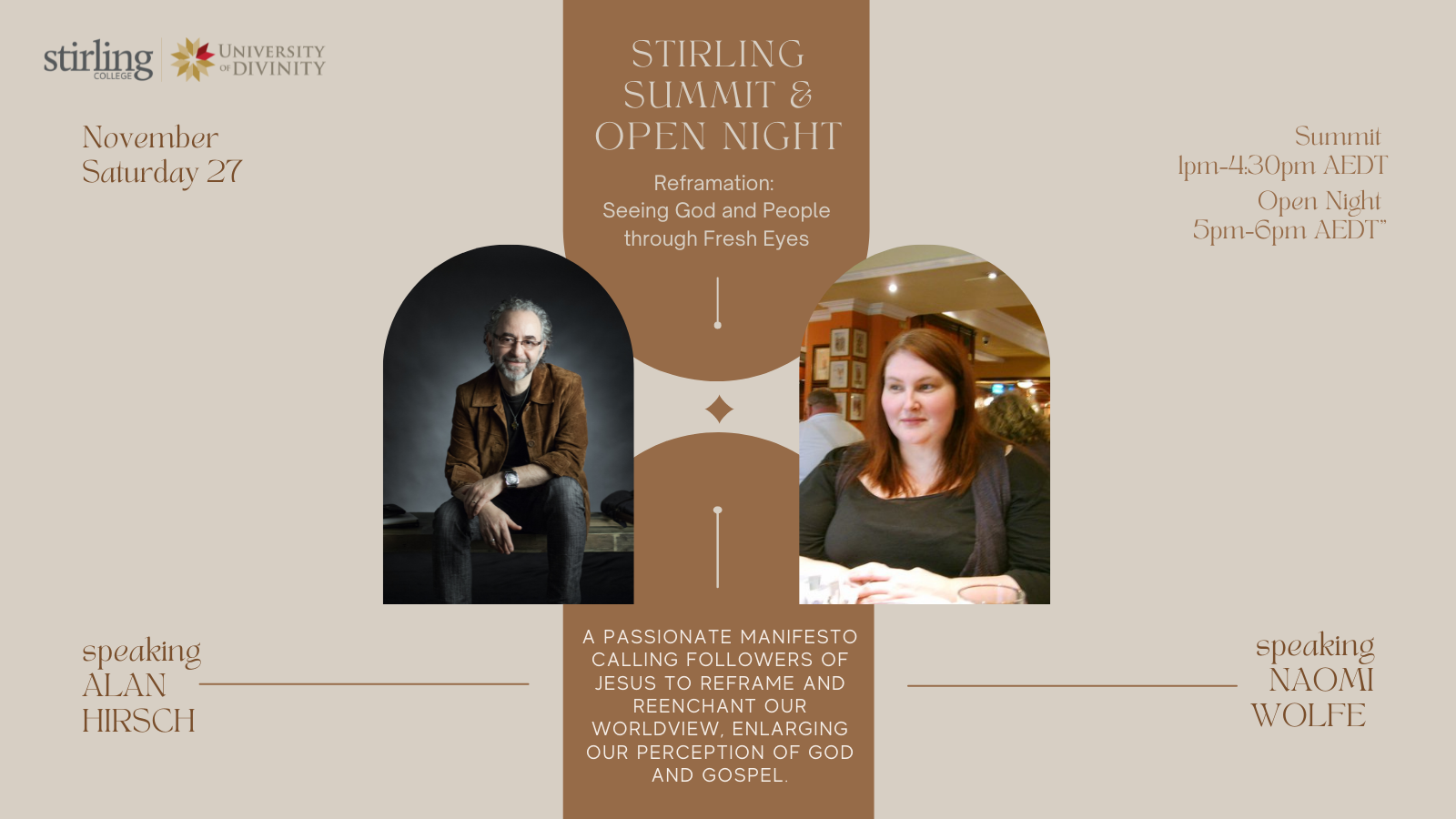 Reframation: Seeing God and People through Fresh Eyes
Join us for the 2021 Stirling Summit with Alan Hirsch and Naomi Wolfe on Saturday, November 27 (1pm–4:30pm, Sydney Australia time, AEDT). The Summit is free and online, and the theme is "Reframation: Seeing God and People through Fresh Eyes."
A free, online college Open Night will run after the Summit for those who want to learn more about Stirling College's courses in Bible, theology, ministry, mission, and counselling.
The event will be held online at: https://bit.ly/3lTQCPw
Summit theme
As Christians, we can often be starved of imagination, wary of paradox, and devoid of mystery. Reframation is a passionate manifesto, calling followers of Jesus to reframe and reenchant our worldview, enlarging our perception of God and gospel. Join Alan Hirsch and Naomi Wolf as they invite you to stretch your mind, expand your heart, enter collaborative learning between Aboriginal and non-Aboriginal peoples, and awaken to fresh ways of seeing God, people, and place.
Speakers
ALAN HIRSCH is author of numerous award-winning books on movements, organization, and leadership, and teaches extensively across North America, Europe, and Australia. He is the founder of 100 Movements, Forge Mission Training Network, Future Travelers, and now 5Q Collective. All these organizations focus on pioneering leadership development and training and consulting in on the church as missional movement.
NAOMI WOLFE is a trawloolway woman, and Academic Dean of the University of Divinity's Indigenous Studies program with Whitley College and NAIITS: an Indigenous learning community. Naomi encourages a collaborative learning between Aboriginal and non-Aboriginal people to break down barriers destroy stereotypes and to cultivate new relationships based on respect. She has a professional and personal interest in Indigenous cross-cultural training and awareness as well as Indigenous pedagogies and theology.
Schedule
1-2.30pm: Alan Hirsh – Reframation: Seeing God, People, and Mission Through Reenchanted Frames
3-4:30pm: Naomi Wolf – Aboriginal Reflections on Seeing and Remembering Rightly and Living Together Well
5:15-6:30pm: Stirling College Open Night
Join online
JOIN ONLINE

Stirling College is committed to ongoing theological reflection and the formation of each member of our learning community. Stirling is committed to being Christ centred in heart, thought, word and deed. We form people towards Christ centred lives, mission and ministry. Stirling is committed to giving students the best possible skills to read the Bible in its original context and to then reflect on what that means for today and how to apply it in their lives, not just for their own benefit but to benefit the Body of Christ in its diverse and varied expressions.