Sex and Politics
Wednesday, 22 May, 6:30 pm

–

9:30 pm

AEST
Australian Collaborators in Feminist Theologies: Public Lecture
Wednesday 22 May 2019
6:30pm Drinks and cheese
7:30-9:30pm Lecture
Religion, Morality and the State: homosexuality and Catholic Britain 1954-1971
On Wednesday the 22nd of May we are pleased to present Dr Alana Harris, visiting scholar from Kings College, UK delivering a lecture in relation to her own work: "Religion, Morality and the State: homosexuality and Catholic Britain 1954-1971" with Commissioner for Gender and Sexuality, Commissioner Ro Allen, to respond in the context of our local engagement on delegalizing conversion therapy and the political interventions that are presently underway here in Australia.
The lecture will explore a spectrum of Catholic reactions to homosexuality in Britain from 1954 to 1971, and especially the jurisprudential and theological attempts of Norman St John-Stevas to forge an updated but nevertheless traditional Catholic position on homosexuality that fused natural law teaching with the insights of biblical exegesis, modern medicine and psychology.
Tickets
$20 waged
$15 unwaged/student
Book online now
Event Poster
Download the event poster and share with your community. You can also share this event straight to your social media using the buttons above.
About Dr Alana Harris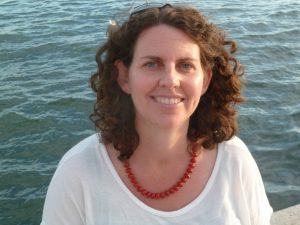 Dr Alana Harris is a lecturer in modern British history at King's College London. Drawing on her historical and theological formation at the University of Melbourne, the United Faculty of Theology  within the Melbourne College of Divinity, and Wadham College, University of Oxford, she researches and publishes in the history of religion, ecumenical relations, the intersections between gender, sexuality and spirituality, and material cultures (popular devotion, pilgrimage and ritual practices). These are issues explored in her recent publications, including Faith in the Family: A Lived Religious History of English Catholicism 1945-82 (2013) and the edited volume The Schism of '68: Catholicism, Contraception and 'Humanae Vitae' in Europe, 1945-75 (2018).
Just published:
The Schism of '68: Catholics, Contraception and Humanae Vitae in Europe, 1945-1975

Also available:
Love and Romance in Britain, 1918-1970 (with Timothy W. Jones)
Faith in the Family: A Lived Religious History of English Catholicism, 1945- 82
About Ro Allen, Commissioner for Gender and Sexuality
Ro Allen is an experienced and longstanding advocate for LGBTI Victorians and has held leadership positions in the community and government sectors.
Ro has been a member of three Victorian Government LGBTI ministerial advisory groups and chaired the ministerial advisory committee on LGBTI Health and Wellbeing between 2007 and 2009.
As founding CEO of UnitingCare Cutting Edge, Ro established Victoria's first rural support group for young LGBTI people, giving Ro a particular understanding of the issues faced in rural and regional areas.
Ro is a former Chair of the Adult, Community and Further Education Board, the Victorian Skills Commission, the Youth Affairs Council of Victoria (YACVIC), and former member of the Hume Regional Development Australia Committee.
Ro has been recognised for extensive community service: in 2003 Ro received a Centenary Medal and in 2009 was inducted into the Victorian Government Honour Roll for Women.
Recently Ro was recognised in the Top 50 Public Sector Women (Victoria) 2017 and won Hero of the Year in the 2017 Australian LGBTI Awards.
The Australian Collaborators in Feminist Theologies (Feminist Theologies) aims to consolidate and energise the University's commitment to the participation of women and feminist scholars in the academy and for the churches. By fostering and forwarding feminist voice and vision we aim to promote Gospel justice by addressing issues relating to gender equality, class, race, sexuality, and ability.
The network is supported by the University of Divinity under its Strategic Goal 3: Feminist Theologies
This goal draws on the University's tradition as the first Australian institution to award a degree in theology to a woman (Winifred Kiek, BD (1924)) and a flagship within the academy for the significant numbers of Catholic women religious, pastoral associates and others not seeking ordination, as well as those women who (since Kiek's ordination in 1927) have been ordained as Christian ministers in Australia. It aims to grow further the existing network of feminist scholars that seeks to enable a fresh conversation through initiatives in research, publication, mentoring, and related teaching.