Search for an indigenous hermeneutic that encourages theological and socio-economic development in Melanesia
Tuesday, 4 June, 1:30 pm

–

2:30 pm

AEST
Presented by Rev Emmanuel Yalamu, PhD candidate, ALC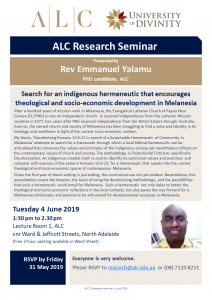 After a hundred years of mission-work in Melanesia, the Evangelical Lutheran Church of Papua New Guinea (ELCPNG) is now an independent church.  It received independence from the Lutheran Mission societies in 1977, two years after PNG received independence from the British Empire through Australia. Even so, the named church and society of Melanesia has been struggling to find a voice and identity in its theology and worldview in light of the current socio-economic context.
My thesis, 'Decolonising Romans 12:9-21 in search of a Sustainable Hermeneutic of Community in Melanesia' attempts to search for a framework through which a local biblical hermeneutic can be articulated that conserves the values and principles of the indigenous society, yet nevertheless reflects on the contemporary issues of church and society. The methodology is Postcolonial Criticism, specifically Decolonisation. An indigenous creedal myth is used to identify its communal values and practises and compare with nuances of the same in Romans 12:9-21; for a hermeneutic that speaks into the current theological and socio-economic spaces of contemporary Melanesia.
Given the first year of thesis writing is just ending, the conclusions are not yet evident. Nevertheless, this presentation covers the impetus, the basis of using the decolonising methodology, and the possibilities that such a hermeneutic could entail for Melanesia.  Such a hermeneutic not only helps to better the theological and socio-economic reflections in the local contexts, but also paves the way forward for a Melanesian philosophy and practise to be articulated for developmental purposes in Melanesia.
Tuesday 4 June, 1:30-2:30pm (Adelaide time)
Everyone is very welcome.
RSVP by Friday 31 May 2019
research@alc.edu.au or (08) 7120 8251
ALC is shaping tomorrow's pastors, teachers, and church workers who think imaginatively about issues that affect all of life in the church and the world. They are learning to think faithfully and vitally about life and faith in the light of biblical and church teaching, and be effective spiritual leaders, educators, and workers who bring life and renewal in the church and communities they serve.
ALC provides opportunities for growth, education, and training in Higher Education and Vocational Education and Training formats, including Certificate IV, Diploma, Bachelor, Masters, and Doctoral studies.