Public Lecture with Dr Mick Duncan
Monday, 30 September 2019, 1:00 pm

–

2:30 pm

AEST
Israel Folau, Willow Creek and Dietrich Bonhoeffer: Yes, They do have something in common!
Almost 70 times in the New Testament we are pressed to "one another" each other. Specifically, which "one another's" went missing with Folau and Willow Creek? Bonhoeffer has something to say on this.
Mick Duncan has been committed to transforming urban communities for the last 40 years, serving in the slums of Manila and in many churches, and having a long association with Urban Neighbours Of Hope (UNOH), and the annual Surrender Conference. In addition to being a writer, lecturer, and acclaimed speaker across New Zealand and Australia, Mick is passionate about seeing followers of Jesus become people who can walk alongside those who are alone.
Book now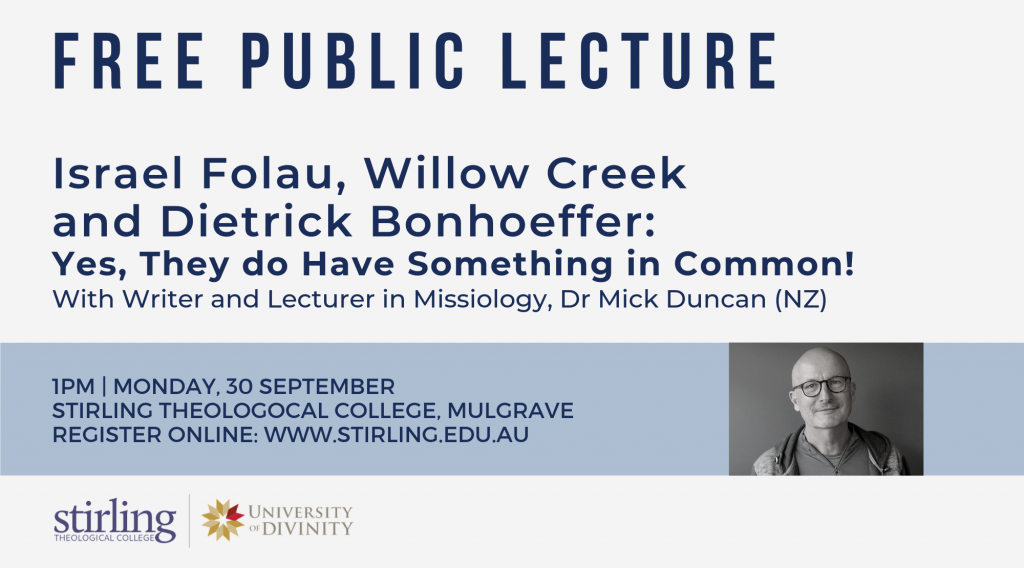 Stirling Theological College is committed to ongoing theological reflection and the formation of each member of our learning community. Stirling is committed to being Christ centred in heart, thought, word and deed. We form people towards Christ centred lives, mission and ministry. Stirling is committed to giving students the best possible skills to read the Bible in its original context and to then reflect on what that means for today and how to apply it in their lives, not just for their own benefit but to benefit the Body of Christ in its diverse and varied expressions.