Practical Theology in Fractured Times
Monday, 21 October 2019, 7:00 pm

–

8:30 pm

AEDT

Free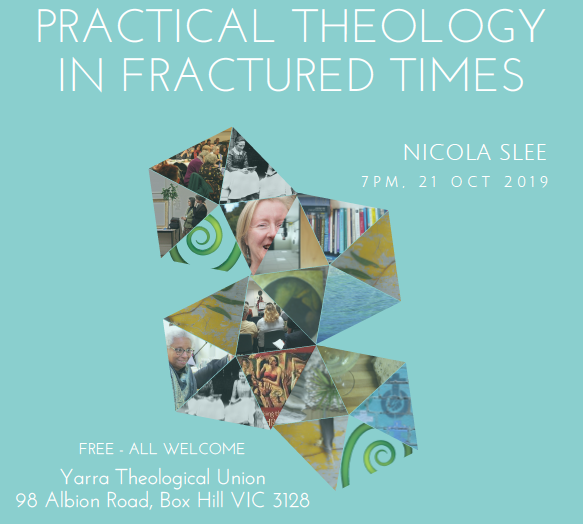 Nicola Slee offers a State of the Union on Practical Theology. Slee argues, "Practical and feminist theologies highlight the vocation of all theology to be concerned with the lives and practices of ordinary believers and with the imperative of gender justice." What can these learnings offer us in these fractured times?
Nicola Slee is Director of Research at The Queen's Foundation for Ecumenical Theological Education, Birmingham, and Queen's Professor of Feminist Practical Theology at Vrije Universiteit (Free University), Amsterdam. She chairs the British and Irish Association of Practical Theology.
Book now
The Australian Collaborators in Feminist Theologies (Feminist Theologies) aims to consolidate and energise the University's commitment to the participation of women and feminist scholars in the academy and for the churches. By fostering and forwarding feminist voice and vision we aim to promote Gospel justice by addressing issues relating to gender equality, class, race, sexuality, and ability.
The network is supported by the University of Divinity under its Strategic Goal 3: Feminist Theologies
This goal draws on the University's tradition as the first Australian institution to award a degree in theology to a woman (Winifred Kiek, BD (1924)) and a flagship within the academy for the significant numbers of Catholic women religious, pastoral associates and others not seeking ordination, as well as those women who (since Kiek's ordination in 1927) have been ordained as Christian ministers in Australia. It aims to grow further the existing network of feminist scholars that seeks to enable a fresh conversation through initiatives in research, publication, mentoring, and related teaching.