Poetry and Prayer with Pádraig Ó Tuama | Online Event Series
Tuesday, 5 March 2024, 7:00 pm

–

Thursday, 14 March 2024, 9:00 pm

AEDT

From $80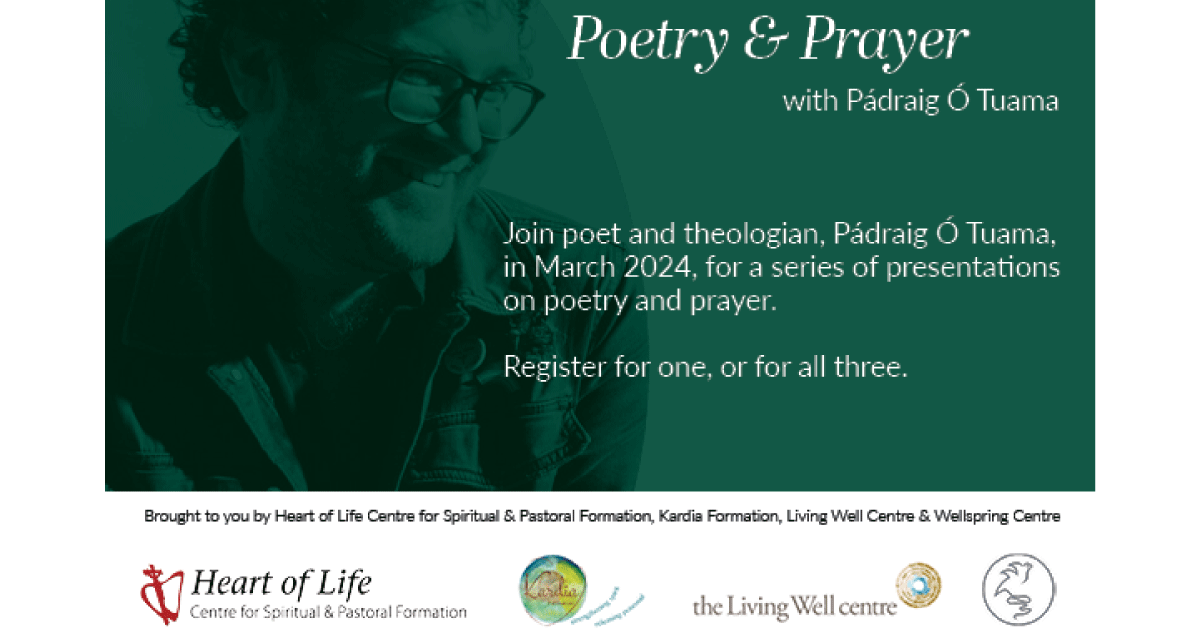 Heart of Life Centre for Spiritual & Pastoral Formation, Kardia Formation, Living Well Centre and Wellspring Centre are delighted that Irish poet and theologian, Pádraig Ó Tuama will present on the following topics through a series of evenings in March 2024.
Event Series Details
This event series will consist of three online sessions, hosted over a week and a half in March 2024.
The Vernacular of Human Experience
When: Tuesday 5 March, 7pm – 9pm UTC+11
We all tell stories: about what happened at work; on the train to work; in the shop; on the phone. This workshop will explore stories as a container of multiple meanings, replete with literary riches, even in the everyday of simple and ordinary language.
"Lord Help Me; The Ocean is So Big and My Boat is So Small"
When: Thursday 7 March, 7pm – 9pm UTC+11
What are the forms that can help us? A raft? A little boat? Something to help you breathe? Something to help others? Yes to all, and more. This session will explore forms — collect, blessing, creed — that contain aspects of the human condition that are looking for shape and ritual.
To Whom is Prayer Addressed?
When: Thursday 14 March, 7pm – 9pm UTC+11
This session will explore the 'you' of prayer and poetry, a simple word that can contain multitudes: desire, yearning, accusation, doubt, knowledge & agnosticism. This word 'you' — one of the most used in everyday English language — imagines an interlocutor who listens, attends.
Registration
Register Here
Cost: The cost for this series is $225 or $80 per session. Wellspring expresses that you are welcome to reach out if you can't afford the full cost or to sponsor tickets for others.