Online public lecture: "Icon of the Nursing Virgin between Coptic and Byzantine Traditions" by Fr Nebojsa Tumara
Wednesday, 13 July, 7:00 pm
AEST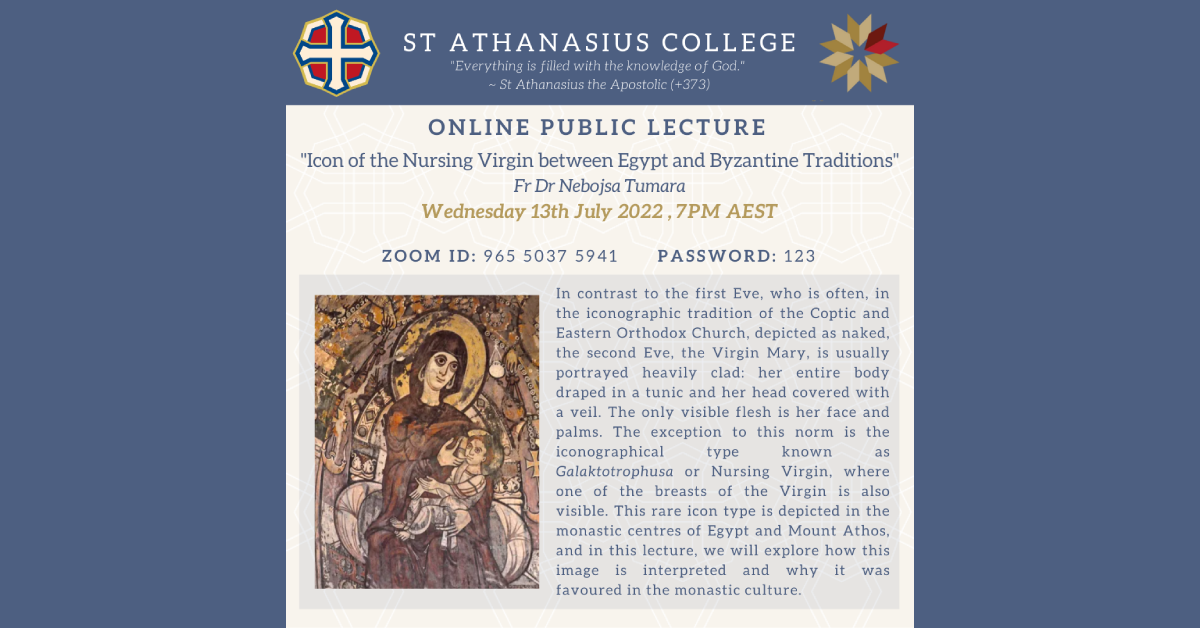 We warmly invite all to attend our next public lecture on Wednesday 13th July 7PM AEST.
Topic: "Icon of the Nursing Virgin between Coptic and Byzantine Traditions" by Fr Nebojsa Tumara
In contrast to the first Eve, who is often, in the iconographic tradition of the Coptic and Eastern Orthodox Church, depicted as naked, the second Eve, the Virgin Mary, is usually portrayed heavily clad: her entire body draped in a tunic and her head covered with a veil.
The exception to this norm is the iconographical type known as Galaktotrophusa or Nursing Virgin, where one of the breasts of the Virgin is also visible. This rare icon type is depicted in the monastic centres of Egypt and Mount Athos, and in this lecture we will explore how this image is interpreted and why it was favourited in the monastic culture.
Details
Wednesday 13th July 2022, 7pm AEST
Meeting ID: 965 5037 5941
Passcode: 123