May Eastern Suburbs Research Seminar
Wednesday, 12 May, 2:00 pm

–

5:00 pm

AEST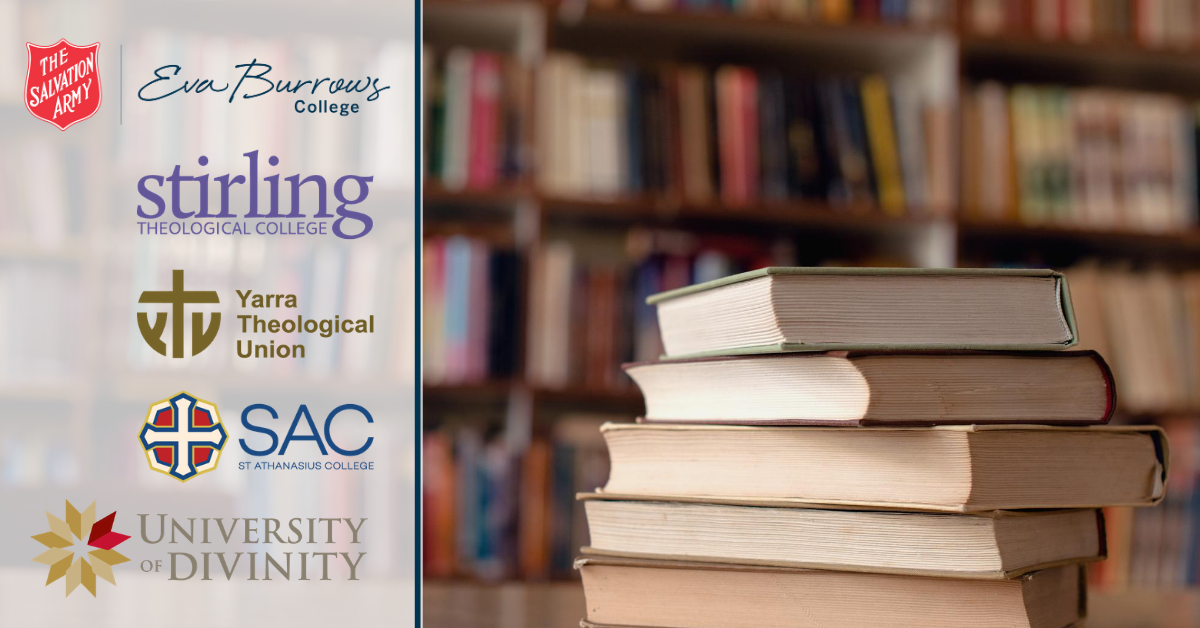 Location: Online, hosted by Stirling Theological College
The Eastern Suburbs Seminars is a research collaboration between Stirling Theological College, Eva Burrows College, St Athanasius College, and Yarra Theological Union. The goal is to enhance research collaboration, quality, and output among these four colleges.
The research seminars are free, and are open to all UD faculty and students, and especially those of the 4 eastern suburbs colleges. There will be four presenters for each seminar (one from each College), and the seminars will run from 2–5pm fully online. Presenters will include research students, faculty, and guest researchers and scholars.
Speakers
2:00 pm: Fr Jacob Joseph (SAC) – Title TBC
2:30 pm: Brian Macallan (STC) – 'Henri Bergson: finding freedom'
3:00 10 minute break
3:10 pm: Liz Boase
3:50pm: Heather Cetrangolo (YTU) – Towards a Franciscan Pedagogy
4:20 pm: Brad Watson (EBC) – 'The Experience of Gay & Lesbian Salvation Army Officers'
4:50 Close
Enquiries
Assoc Prof Graham Hill can be contacted with enquiries: principal@stirling.edu.au
Join Zoom Meeting
https://divinity.zoom.us/j/9969124341?pwd=L3d2a2g5dlJva2Ixb3JoUldKL0tndz09 
Stirling Theological College is committed to ongoing theological reflection and the formation of each member of our learning community. Stirling is committed to being Christ centred in heart, thought, word and deed. We form people towards Christ centred lives, mission and ministry. Stirling is committed to giving students the best possible skills to read the Bible in its original context and to then reflect on what that means for today and how to apply it in their lives, not just for their own benefit but to benefit the Body of Christ in its diverse and varied expressions.