Dr Ramez Mikhail: "A Celebration of Scripture Towards A History of the Coptic Liturgy of the Word"
Wednesday, 3 July 2019, 7:00 am

–

8:00 pm

AEST

Free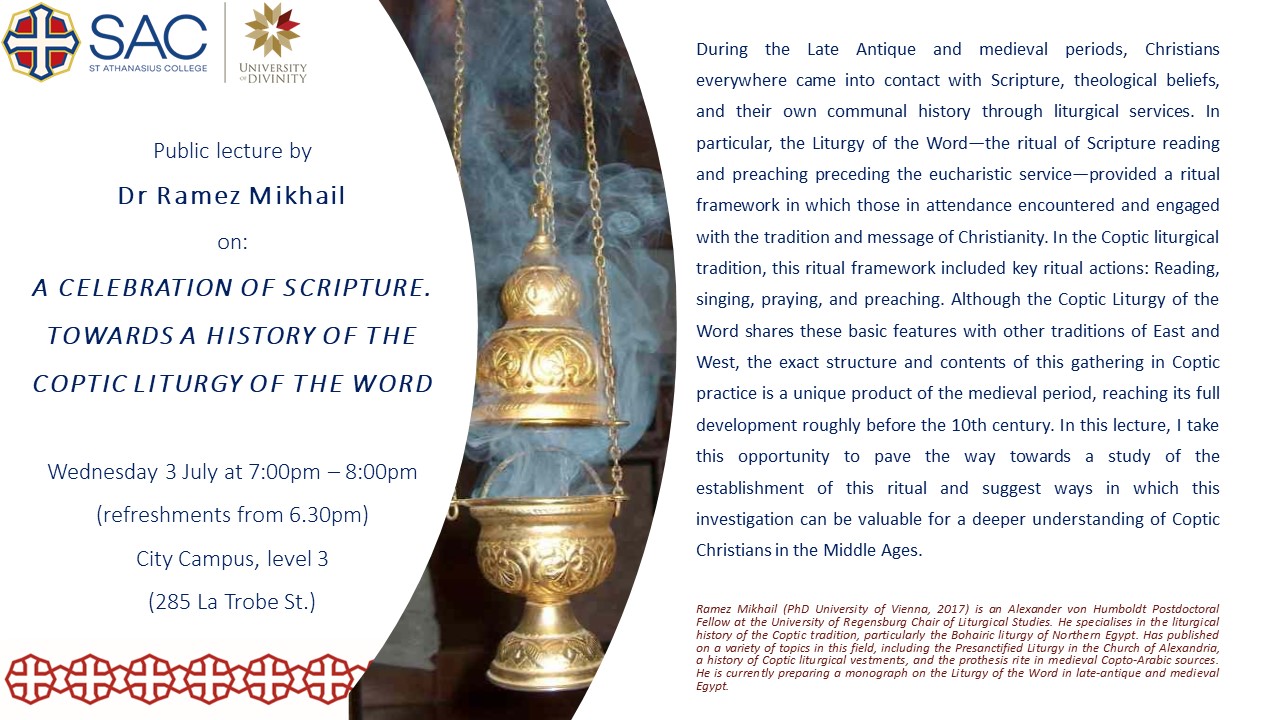 St Athanasius College is pleased to host a public lecture by Dr Ramez Mikhail.
During the late-antique and medieval periods, Christians everywhere came into contact with Scripture, theological beliefs, and their own communal history through liturgical services. In particular, the Liturgy of the Word—the ritual of Scripture reading and preaching preceding the Eucharistic service—provided a ritual framework in which those in attendance encountered and engaged with the tradition and message of Christianity. In the Coptic liturgical tradition, this ritual framework included key ritual actions: Reading, singing, praying, and preaching. Although the Coptic Liturgy of the Word shares these basic features with other traditions of East and West, the exact structure and contents of this gathering in Coptic practice is a unique product of the medieval period, reaching its full development roughly before the 10th century. In this public lecture, Dr Ramez Mikhail (Alexander von Humboldt Postdoctoral Fellow at the University of Regensburg Chair of Liturgical Studies) will pave the way towards a study of the establishment of this ritual and suggest ways in which this investigation can be valuable for a deeper understanding of Coptic Christians in the Middle Ages.
St Athanasius College specialises in Coptic Orthodox theological studies online and on campus. For 20 years, SAC has offered courses in diverse fields of theology and delivers undergraduate, postgraduate and higher degrees by research. SAC continues to offer a diverse and growing range of subject units including specialist languages such as Hebrew and Syriac.