Complexity, Creativity and Community in a Networked World
Wednesday, 3 November

–

Friday, 12 November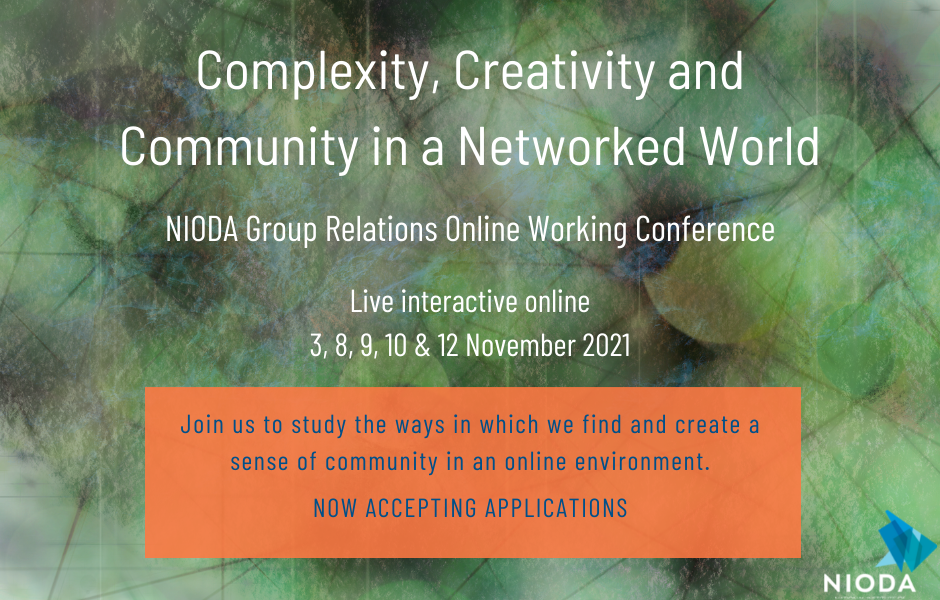 NIODA Group Relations Online Working Conference
Live, interactive and online
3, 8, 9, 10 & 12 November 2021
"Learn to enhance confidence and courage in your own role." – Dr Nuala Dent, Conference Director
NIODA's group relations conference invites us to discover our creative capacity in an online working environment.  It also seeks to understand a particular challenge of remote or hybrid work; to find and create online places, where we can connect with others to build a sense of community within and alongside our work organisations.
The conference is based on group relations theory which proposes that a group has a collective mind that influences our behaviour. So, it specifically works with group dynamics and, within that, the roles that individuals take up.
In this conference, you will learn from experience about how you react to leadership and authority in different settings, and you get to experiment with how you take up leadership and authority in different roles.
The theme of this conference acknowledges the complexity of our globally networked post-covid world, and seeks to find ways to creatively explore concepts of community.
What will you learn?
One of the great benefits of experiential learning, is that you're getting information from others about how they experience you. This builds self-awareness

Primarily, you'll learn about how you impact groups, and groups impact upon you – ie leading and following

You can also gain a deeper understanding the dynamics in your team, or any group you're part of

Finally, it gives you confidence and courage in your role – this is a really important part of a working conference
---
Event Times and Dates
Wednesday 3 November, 3 – 5 pm (AEDT)
Monday 8 November, 10 am – 4 pm (AEDT)
Tuesday 9 November, 10 am – 4 pm (AEDT)
Wednesday 10 November, 10 am – 4 pm (AEDT)
Friday 12 November, 10 am – 4 pm (AEDT)
Download brochure
Learn more and Apply
---
More information
Enquiries: Please contact Ellie Robinson, Director of Administration – GRC@nioda.org.au
Video: What is a group relations conference  NIODA Group Relations Conference 2021