Communizoom Chats: Theologies and Practices of Love
Wednesday, 1 July, 7:30 pm

–

8:30 pm

AEST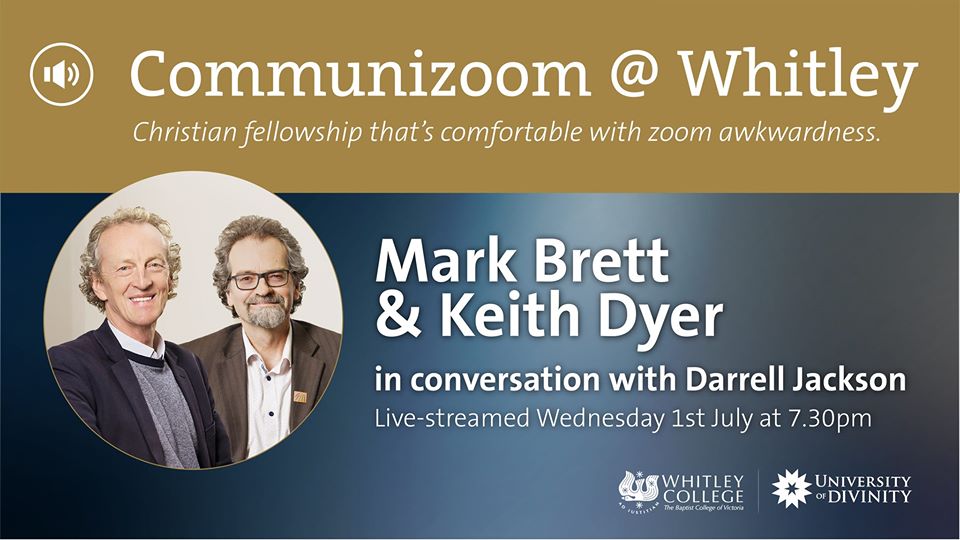 Whitley College invites you to join us for a series of online conversations which will take place on Facebook Live.
Watch on Facebook
Professor Mark Brett and Assoc Professor Keith Dyer together present 'Theologies and Practices of Love'. Mark teaches in the area of Hebrew Bible and ethics, and has a lifelong interest in the cultural contexts of education and biblical studies. Keith is passionate about encouraging open, analytical and interactive group study of the Bible.
Explore themes of love of neighbour and enemy, sexuality and intimacy, election and covenant and their ethical implications, within the cultural contexts of the ancient world. The relevance of these themes within modern and postmodern societies will also be discussed, with some reference to contemporary visual arts and music.
In conversation with Darrell Jackson, Mark and Keith will talk about how the study of love in antiquity is relevant to the current challenging context. This event will give students and those interested in studying at Whitley an opportunity to engage with Mark and Keith, and ask questions.
'Theologies and Practices of Love' will be part of the semester 2 2020 program at Whitley College.
Find out more about this subject
Keen to hear more of our Communizoom series?
8th July – Lynn Moresi in conversation with Katrina Lambert
15th July – Francesca Nuzzolese in conversation with Anne Mallaby
Whitley College is a culturally diverse community of learners committed to practical expressions of God's activity in the world. We wrestle together in spiritual formation through theological reflection, creative exploration and academic rigour.
Shaped by the Bible, and drawing on our Baptist heritage, we are responsive to the contemporary needs of church and society, affirming liberty of conscience in conversation with other traditions of religion and spirituality.
Our educational ethos unifies heart, thought and hands, giving priority to personal and social transformation.