Communizoom Chats: Pastoral Care in Suffering, Grief and Loss
Wednesday, 15 July 2020, 7:30 pm

–

8:30 pm

AEST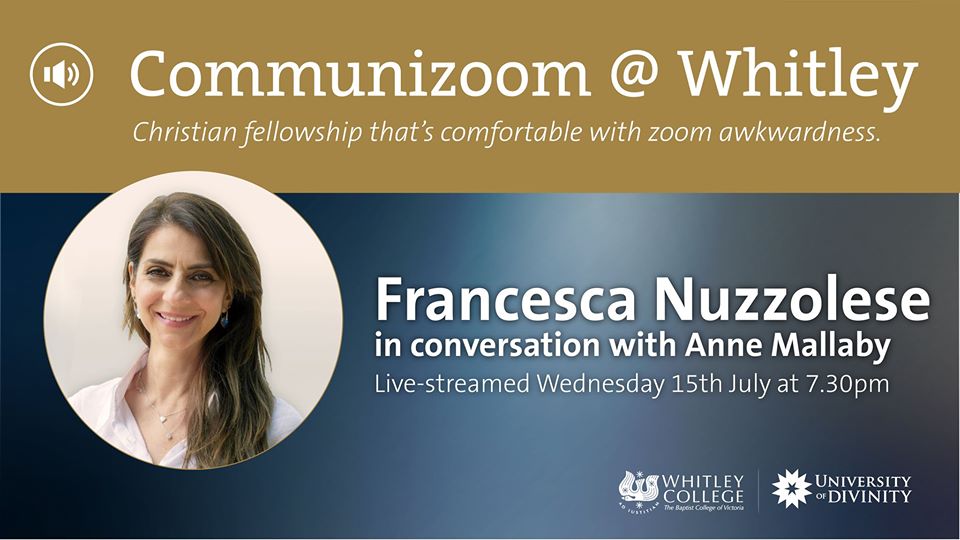 Whitley College invites you to join us for our final event in the Communizoom series that will take place on Facebook Live.
Watch on Facebook
Rev Dr Francesca Nuzzolese is a pastoral theologian, psychotherapist and trauma care consultant. Her lifework and experience span over a variety of cultural, geographical and denominational contexts, with critical competencies in cross-cultural teaching, training, and psychotherapeutic practice.
Her chief vocational commitment is to create educational and therapeutic spaces, where individuals and communities can experience growth and fulfillment, healing and wholeness. She has two decades of experience teaching in higher education, training and consulting with NGOs on trauma care, and counseling individuals and communities in vulnerable predicaments.
Rev Dr Anne Mallaby, retiring Dean of Whitley College, will talk with Francesca about how ministering to the vulnerable and traumatised became her life's passion. Francesca is facilitating 'Pastoral Care in Suffering, Grief and Loss' in semester two, and will talk about how caring for others and ourselves is more relevant now than ever before.
Find out more about this subject
Whitley College is a culturally diverse community of learners committed to practical expressions of God's activity in the world. We wrestle together in spiritual formation through theological reflection, creative exploration and academic rigour.
Shaped by the Bible, and drawing on our Baptist heritage, we are responsive to the contemporary needs of church and society, affirming liberty of conscience in conversation with other traditions of religion and spirituality.
Our educational ethos unifies heart, thought and hands, giving priority to personal and social transformation.