A Fine Line: God and the human person in Romano Guardini's notion of Providence
Tuesday, 12 March 2019, 2:00 pm

–

3:00 pm

AEDT
How can we view God's Providence and what is the place of the human person in that?
Jane Lee-Barker will look at the development of Romano Guardini's notion of Providence over three periods in which he wrote. It was a period of time spanning almost sixty years.  Guardini drew on Scripture, theology and anthropology of the human person in order to address that question.
At each stage, Guardini sought to address challenges in the landscape of the society he lived in at the time.  There was development in his notion of Providence although the basic gestalt remained the same.
Guardini's first text on Providence written in 1916 set the stage for the other texts on God's Providence.  The last one was published in 1963.  Dr Lee-Barker will show how Guardini's notion of Providence is still relevant for people in today's world.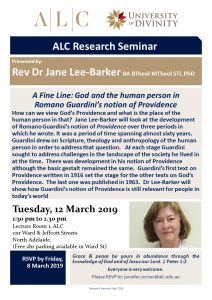 ALC is shaping tomorrow's pastors, teachers, and church workers who think imaginatively about issues that affect all of life in the church and the world. They are learning to think faithfully and vitally about life and faith in the light of biblical and church teaching, and be effective spiritual leaders, educators, and workers who bring life and renewal in the church and communities they serve.
ALC provides opportunities for growth, education, and training in Higher Education and Vocational Education and Training formats, including Certificate IV, Diploma, Bachelor, Masters, and Doctoral studies.